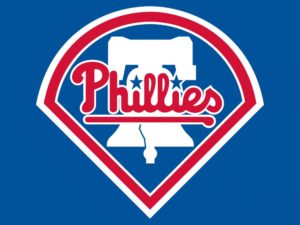 The Boys of Summer are back, for what Phillies fans hope will be a spectacular season, lead by the lineup of pitchers that has the sports world buzzing. But what has us buzzing at The Town Dish is the incredible lineup of food offerings at Citizens Bank Park.
Fans familiar with the park will find a few new offerings, with a decidedly healthy spin. "You might ask, 'Why healthy food at a ballpark?'" said Aramark's Dan Smith, "This is a direct result of fan feedback." It's true that Philly sports fans are crazy about hot dogs, cheesesteaks and crab fries, but the number one request from fans is for healthier offerings at the concession stands. Philly-based Aramark listened, and has transformed one South Philly Market stand into Philly Fresh – a one-stop shop for fast, healthful and tasty food. Philly also leads the nation's ballparks when it comes to vegetarian options, and now features gluten-free foods (including beer and hot dogs!) as well.
So what should you eat this summer at the ballpark? It depends on what you're looking for!
If you're watching your waistline: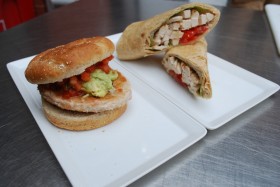 The Philly Fresh stand should be your first stop for healthful eats. Two new sandwiches are on the menu, but only one will make the cut. Choose between a guac-topped turkey burger on a whole wheat bun and a chicken wrap with a cilantro yogurt spread – both made fresh when you order. (Cast a vote for your favorite at Phillies.com/sandwich) If you don't want to miss a pitch, grab one of the new salads, the Hall of Fame (with grapes, pistachios, dried cranberries and blue cheese) or the Shanghai Chicken (with crispy noodles, carrots and a ginger soy dressing) premade for your convenience. Satiate your sweet tooth with fruit smoothies, sugar free Tastykakes or frozen yogurt from the new Yogen Fruz stand.
If you're new to the ballpark:
Go big or go home. Grab a Schmitter (in honor of Phillies legend Mike Schmidt) and indulge in a cheesesteak topped with grilled salami, fried onions and tons of cheese. This messy monster should be accompanied by the infamous crab fries from Chickie's & Pete's and washed down with a beer. If the Schmitter intimidates you too much, the trustworthy cheesesteak is always a great choice, or you can't go wrong with the chef's favorite: Exec Chef Glenn Richmond grabs a double cheeseburger when he's watching the game.
If you're Philly through & through:

You can get a roast pork sandwich anytime, so when you're at the park, try the South Philly Dog – a hot dog topped with long hots, broccoli rabe and sharp provolone on a crusty Italian roll. Or try a different spin on a pork sandwich with a new Cuban panini. The pork is slow roasted on site then topped with ham, cheese, pickles and whole grain mustard on thick cut bread, grilled to order. Support the hometown favorites by pairing either Yuengling Lager or Victory Prima Pils (both on tap at Brewerytown) with these all-star eats. Top it all off with Turkey Hill ice cream served in a plastic helmet – you'll surely feel like a kid again.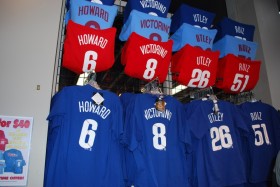 So now you're full, but are you appropriately outfitted to cheer on the team? Head to the Majestic Clubhouse Store, the first and last stop for all your Phillies gear. They're continually adding new items to their lineup, but right now the hot ticket items are player name and number tees, now in exclusive styles, more colors and more players. Looking to get even closer to your favorite player? Slip on a game-worn jersey at the Phillies Authentics store. You can also find authenticated baseballs, bases and autographed items to complete your collection.
To further outfit your home, check out the ever-expanding line of Phillies branded merchandise such as glassware and toasters that will brand your bread with the Phillies "P." Another quirky home accessory is the Phanatic Pillow Pet, a hybrid pillow/stuffed animal that the store is having trouble keeping in stock. Additions to the women's apparel and pet apparel line are also new, and now, the Majestic Clubhouse is open seven days a week all year long!
Check out the full list of game day eats here. If you like to be close to the food action, with a great view of the game, grab seats behind right and center field. Baseball season is just heating up and we're sure to have more Phils food info for you all summer long, so stay tuned to The Town Dish for tailgate ideas, Phillies recipes and more!
To view more scenes from Melissa's ballpark tasting, click here.