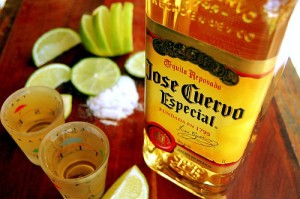 Tune into WCHE1520 today, May 6 from noon to 1 pm for Eat, Drink and Meet Mary and you'll hear the best ways to prolong celebrating Cinco de Mayo through the weekend!
Host Mary Bigham of The Town Dish will have the Philadelphia-based tequila ambassador, Manquel Maczualdez live on-air, who will detail listeners the best way to taste a tequila. (He suggests that you do so like a scotch, you can use your nose, palate to get the best sip).
Maczualdez, a knowledge spirits consultant and a national brand representative for Jose Cuervo, will also discuss top-notch margaritas and his best food pairings for the spirit.
Better yet, Gabriel Villalba–the owner of West Chester's go-to authentic Mexican joint, Don Gabriel's–will also be a guest on today's show, chitchatting about must-try Mexican food and some of her specific mouthwatering creations we all love to chow down on! She will even walk Bigham through the world of Mexican candy, identifying the top sugary sweets that kids can't get their paws off of.
As always, on today's show, Bigham will be giving away a food-fun prize pack and today's giveaway will supply dinner for two to one of the area's most notable eateries—who happen to be launching a brand-new mouthwatering menu this coming week. Tune in to find out which restaurant we are talking about! Call in number is 610-701-WCHE (9243). Also, follow along on Facebook, too!
A big "thank you" goes out to this week's sponsors: Downingtown Country Club, Kati Mac Floral Design, Cakes and Candies by Maryellen and Twin Valley Coffee.