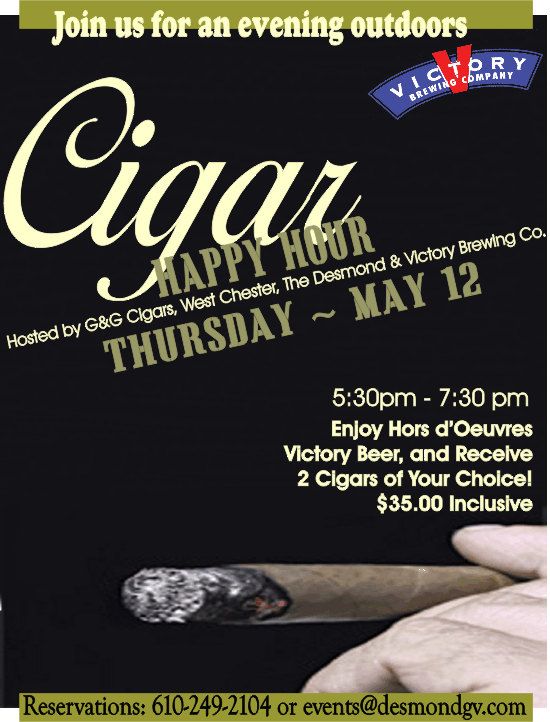 Join G&G Cigars, local aficionados' go-to provider of fine cigars and smoking accessories of West Chester, as they host this week's must-attend happy hour outdoors at the Desmond Hotel of Malvern on Thursday, May 12 from 5:30 to 7:30 pm.
The evening's assortment of cigars will be paired with local brews, too, as provided by Victory Brewing Company, as well as mouthwatering hors d'oeuvres crafted by the well-received kitchen staff of the hotel. Admission is $35 per person, which nabs attendees two stogies from G&G, unlimited brews and bites, all while offering the best way to end your work day.
Call 610-249-2104 for reservations or contact events@desmondgv.com. Find the Desmond Hotel at 1 Liberty Blvd. or online at desmondgv.com.
CONTEST ALERT!
In lieu of this happy hour, we are giving away a pair of tickets to a well-deserving male who needs a night out! To be entered in the running, leave a comment on this post stating why you desperately need to be part of the Desmond's upcoming Cigar Happy Hour. We will close the contest on Wednesday at 8 pm, announcing the winner on this post shortly after. May the best gent win!