Your Next Best Bite is a regular column featuring our recommendations for the most mouthwatering appetizer, entree or dessert that we've spotted in our area-wide restaurants.
Our Recommendation: The Lobster Roll
Where: The Desmond Hotel's Sunset Grille, One Liberty Blvd., Malvern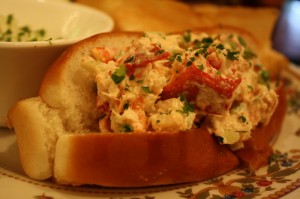 Trust me, I'm like you. I have forever searched Chester County for a satisfying alternative to a legitimate New England lobster roll. How hard could it be, right?
But, it wasn't until I sunk my teeth into Chef Thomas J. Macrina's variety of the classic beach-shack snack, found summer-long on the menu at the Sunset Grille of The Desmond Hotel & Conference Center, that my hunt was complete.
All the traditional pieces are there packing together a perfect warm-weathered bite: The toasted and buttered split-top bun, the tender chunks of lobster, and the ideal ratios of lemon juice amongst the light mayo, salt and pepper.
Honestly, you can't go all season without scarfing this quintessentially summer 'wich. Carol Miller, Director of Marketing of the Malvern-based hotel, revealed that once the lobster roll is introduced on the seasonal summer menu, the staff even goes gaga, gobbling it up.
What's even better is Chef Macrina pairs the seafood salad sandwich with all the appropriate sides: house made (awesomely crunchy) potato chips, cole slaw and a dill spear. Save room for dessert, too. Desmond's old-fashioned bread pudding will have you speeding outdoors with a sugar high, especially if you finish it with a necessary dose of the warmed vanilla bean glaze.