In our latest He Said, She Said, we sent two singles out on a dinner date in Exton, to explore the food and drink of the Drafting Room. Was the beer-infused date a success? Was their love at first sip? Read on to find out!
THE COUPLE:
Nicole
Age: 29
Job: Finance
Hobbies: Food, music, working out, snowboarding, travelling, weekends, beers
Stephen
Age: 29
Job: Manufacturing Manager/Engineer
Hobbies: Travel, snowboarding, sailing, snowmobiling
THE RESTAURANT: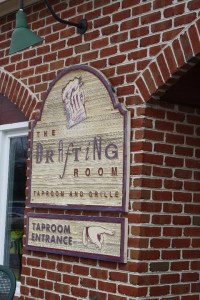 The Drafting Room
635 N. Pottstown Pike   Exton, PA
 THE DATE:
Nicole: Any activity that gives me a chance to eat, drink, talk and laugh…I'm good with it!
Stephen: We went to the Drafting Room for dinner and beer. It was a perfect setup for a blind date.
FIRST IMPRESSIONS:
Nicole: He picked me up from my place and was wearing jean shorts and a wife beater. I almost turned around and went right back up the stairs. No, I'm kidding. He was dressed nicely and had a very welcoming smile on his face, allowing me to immediately feel comfortable. Cute, too – awesome eyes.
Stephen:  I picked her up from her place, she came out in a nice pair of shorts and a top.  I was very impressed.
THE CONVERSATION:
Nicole:  Conversation started easily. We talked about the usual stuff at first, but funnier stuff like potato guns and numerous personal injuries got mixed in. I am a very open person as it is and I didn't sense any apprehension from him so the conversation was good.
Stephen: The conversation was very easy. I felt very comfortable right off the bat.
 THE RESTAURANT: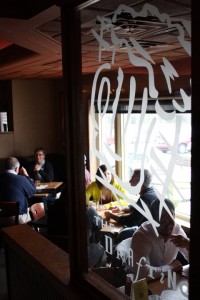 Nicole: It's been years since I was at the Drafting Room. I remembered loving what I had ordered when I was there, so I was looking forward to eating there again. The atmosphere was laid back – I like places that give you enough room to breathe when it comes to how close the tables are to each other, and the Drafting Room is roomy and comfortable. And thank goodness for air conditioning. The menu is diverse and gave us the opportunity to order an array of items.
Stephen: I had never been there or heard of it before. It was great food. I had the steak and it was perfect!  The atmosphere was upscale yet casual. The menu was very nice, good selection.
THE SERVICE:
Nicole: Our server, Nicole, was awesome! She didn't overdo the service, but was right there with suggestions and to make sure we had fresh drinks. If I go back, I would consider asking for her again. Her sales tactic for the dessert was impeccable.
Stephen: The service was also great, they were attentive but not pushy or overbearing.
DRINKS: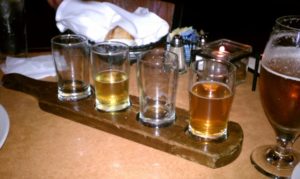 Nicole: We started out with a flight of 4 beers – three draught and 1 cask conditioned. I had had two of them in the past, so I was able to share my knowledge with Steven. He acted impressed, which made me feel smart! We each ordered pint off the flight – he had the Heavy Seas Red Sky At Night and I had the Victory Headwaters Pale Ale. Super yum.
THE FOOD:
Nicole: We started with the Baked Goat Cheese which was good! It was different to have it with plum tomatoes and olives, but trying new things is at the top of my list. I had the salmon, which was presented beautifully. I would absolutely order it again, especially for the Bourbon IPA Glaze and House Smoked Salmon Potato Pancake.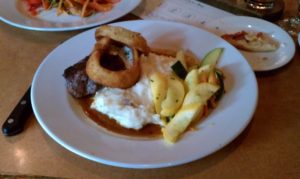 Can't pair things much better than that! And can I mention the dessert? Oh my goodness…Peanut Butter Pie. It was gigantic. And amazing. So worth the extra hour I am going to spend at the gym tonight.
Stephen:  I got the filet; it was perfect. The outside was crispy and the inside was med-rare. It came with some very nice mashed potatoes and squash. I would definitely order it again. There was plenty of steak, which is nice.
CONVERSATION AND CHEMISTRY:
Nicole: It started easy, it stayed easy and it ended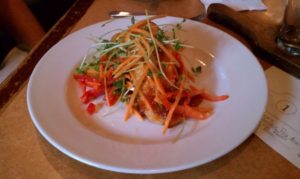 easily. Great conversation the entire date as we have a lot in common. He's very interesting and kind of crazy, and seems to be super fun and up for anything. The type of guy that I like to be around.
Stephen: I thought the conversation was good right off the bat. I felt like Nicky was very easy to get along with. She made me feel comfortable right from the start.  It was a pretty short date, but I think there were some sparks.  I'll know for sure soon…
DID YOU EXCHANGE NUMBERS?
Nicole: We had gotten each other's numbers prior to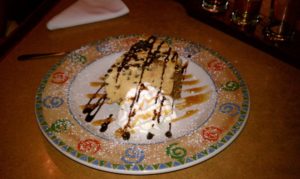 arrange a place to meet up, so yes, he is in my phone as "Hot Date."
WAS IT A MATCH?
Nicole:  I had a great time with him and told him so after he dropped me off. Definitely start off as friends and see what happens.
Stephen: Hopefully.
WAS THERE A KISS?
Nicole: Hug!
WILL THERE BE A SECOND DATE?
Nicole: Sounds like it to me.
Stephen: For sure.
HOW DID YOU LEAVE IT?
Nicole: I was stuffed and exhausted from a long weekend, but it was clear that both of us would be interested in hanging out again. Something about next weekend rings a bell…
Editor's Note
Stephen may have been brief with his responses, which he admits is due to a golfing injury just a day before the date. While he couldn't turn his head at all during his Drafting Room rendezvous, he is looking forward to a second date when he can give Nicole the "head turning she's used to." He also noted that she is "his type and lots of fun."