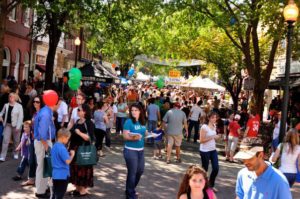 Want to taste your way through Chester County's vast food scene? Now is your chance! On Sunday, Sept. 18, from noon to 5:30 p.m., downtown West Chester will transform into the 32nd Annual Chester County Restaurant Festival.
The county's largest food festival lines Gay Street between Matlack Street and Darlington Street in West Chester with over 60 pay-as-you-go booths serving up award-winning bites for your sampling pleasure. Whether you want to sink your teeth into roasted corn crab cake sliders, filet mignon cheesesteaks with truffled Gruyere cheese fondue, raspberry tea tuna, deep-fried mac and cheese bites, chocolate sea salt popsicles or bacon-bourbon brownie sundaes, the options are endless at this Sunday afternoon festival.
Organized annually by the West Chester Parks and Recreation Department, food vendors are encouraged to offer small portions of upscale, creative dishes at a slim fee. Attendees are encouraged to taste as much as they may from participating restaurants, especially from eateries they have yet to dine in.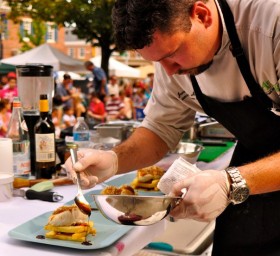 Featured restaurants of 2011's festivities include Side Bar & Restaurant, Carlino's, The Mediterranean, Jazmine Thai, Iron Hill Brewery & Restaurant, Station Taproom,Mas Mexicali Cantina, Pietro's Prime, Gilmore's Restaurant, Pistachio's Cafe & Catering, Cakes and Candies by Maryellen, and many more. Area-wide food trucks will be cruising to the fest, as well, including Dia Doce, JR's Soda Shoppe, Sweets by Samantha and KT Cakehouse.
Need a break between bites? Guests are invited to explore High Street from Market Street to Chestnut Street where nearly 110 arts and crafts vendors and information booths will border the borough, along with three live music stages with seven performing acts. The "Church Street Café," will give patrons a chance to sit and relax with a pint of refreshing brew or a glass of wine. Proceeds from the beverage garden will go to West Chester Recreation's "Send A Kid To Camp" Fund.
Back by popular demand, the Chester County Culinary Cookoff returns to the festival, where four notable chefs of the county will vie for the title of the "Best Chester County Chef." Beginning at 2:30 p.m. on the steps of the County Courthouse (2 N. High St.), chefs of Amani's BYOB, Avalon and Straughen's Catering will compete in a three-course, mystery ingredient cook-off, all of which will be judged by a jury of local food experts. Sponsors of the cooking competition are The Chester County Hospital andTheTownDish.com.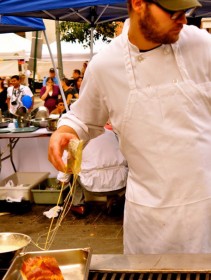 Don't forget to vote for the Town Dish Choice Awards, either! Spend the day discovering Chester County bite after bite and then text in your vote for the best appetizer, best entrée and best dessert. More info on voting at vote.thetowndish.com. Winning restaurants will be announced at the Courthouse, following the culinary cook-off.
A big "thank you" goes out to this year's event sponsors, includingSmaltz's Harley-Davidson, Otto's Mini WC and Otto's BMW WC/Exton,WCHE1520AM, Chevrolet, Verizon Wireless, Knox Equipment Rental,Mitch's Market Street Gym, Pepsi Bottling Company, Valley Del Publications, JR's Soda Shoppe, Fulton Bank, Little's of Downingtown, Buy Fresh Buy Local, NV Homes, Halco Enterprises Inc. and The Chester County Hospital.
Annually over 22,000 people attend West Chester Recreation's food fest, so be sure to attend early, beat the crowds and get first dibs on all the eats! Parking in all Borough of West Chester garages will be only $3 for the entire day. For more information, visit the festival's media sponsor, WestChesterDish.com.
All photographs courtesy of Allison Benford, Bonsai Doll Fern Photography.