La Verona opened last week in the space recently vacated by Newton's On State. Although the new sign hasn't been installed, the inside has undergone quite a renovation from when I was inside just a month ago.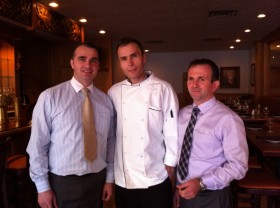 The new Italian restaurant is owned by brothers Jack and Sam Mavraj, with their cousin Ari. They converted the space quickly, having taken over the lease on October 1st.
Jack gave me a tour through the renovated space. High stools and round tables line the front windows, great for people watching while eating lunch or dinner. The main dining room is large and softly lit, with a stained glass piece anchoring the back wall. He showed me a private room where parties can be held for up to 70 people before we returned to the dining room and chatted over an espresso.
La Verona is serving classic Italian dishes, and have both a lunch and dinner menu. The menu includes antipasti, salads, pasta, chicken, veal and fish. They also will offer pizza soon after the new pizza oven is installed and tested. Jack recommends the eggplant parmesan, the prosciutto. He told me they make their own gnocchi, ravioli and tortellini. They also serve dishes such as Veal Saltimbucca and Black Angus Ribeye.
La Verona is open Monday to Sunday for lunch and dinner. For now, they are a BYOB but he hopes to have the liquor license by early December. There's no corking fee.
La Verona is located at 114 East State Street, Kennett Square, PA. Call 610-444-2244 for reservations.