What's a holiday meal without a rich, decadent dessert beer?
Dessert wines such as ports and brandies have been popular for ages, but there is a growing variety of dessert beers to choose from this holiday season. With Thanksgiving coming up, we thought it would be interesting to ask Chester County Beer connoisseurs about their favorite dessert beers.For our list, we chose beers which provide the rush of chocolate and coffee but also included sour beers that taste like a raspberry torte. This holiday season, celebrate post-dinner with a quality dessert beer.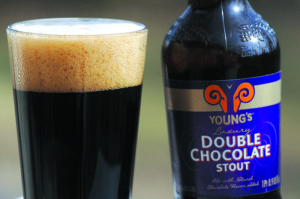 Brewed by Wells and Young's in the UK, this chocolate stout is creamy and rich. At 5.2% ABV, the Double Chocolate is not as intense as others, which means you won't need to crash at your host's house. Ron's Original, Exton Beverage and Waywood Beverage all carry this.
Over at Appetites on Main, Bar Manager Mike Troupe is a fan of the Wells Banana Bread Beer. "It's almost like banana bread but not as rich. It's actually a pretty good balance of sweetness," he says after a sip. The beer even smells like banana. From Wells and Young's in the UK. 5.2% ABV.
Southern Tier has made a name for themselves with flavored beers and their MOKAH is a monster at 11.2% ABV. This is a blending of two of their imperial stouts – Jahva and Choklat. The combination is sinful – death by chocolate with a coffee aftertaste. Carried by Waywood Beverage and Exton Beverage.
Tom Mastronardo from Ron's Original Grille is a fan of settling back with Old Viscosity. He recommends drinking it with a good cigar. "It's something you want to take your time with," he says, advising to let it sit and warm up to between 45 and 50 degrees. Port Brewing describes it as a "massive chewy and thick beer," and states it "blurs the boundaries of Porter, Stout, Old Ale and Barleywines." Twenty percent of the beer has been aged in bourbon barrels. 10.5% ABV.
Jeff Williamson from Waywood Beverage counts this among his favorite dessert beers. "It's called a chocolate stout, but there's not chocolate in it." Black Chocolate comes in four packs. Available October through March, this deep dark chocolate flavor contains roasted malts. 10% ABV.
When asked about his second choice on dessert beers, Mike Troupe insisted it would be a tie between Lancaster Milk Stout (5.3%ABV) and Left Hand Milk Stout (6% ABV). These are the two dessert beers Mike would serve to family at his holiday party!
This Belgian ale is so sweet and sour, it's a favorite among non-beer drinkers. The lambic beer is fermented using raspberries and is often served in champagne glasses. Danielle, the General Manager at PJ Whelihans is a fan of mixing Framboise and Allagash. "I like to pour the Allagash and then top it off with framboise, just… ahh!"
An authentic Trappist beer made by monks, the Blue Cap is also known as the "Grand Reserve." This was first brewed as a Christmas beer but is now brewed year round. Pours a thick brown, and is relatively dry with caramel notes. Chimay recommends serving at cellar temperature. 9% ABV.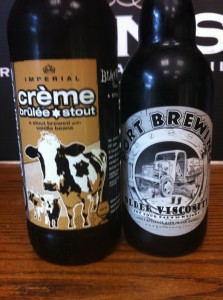 When I asked Tim Volakis of Pinnochio's Beer Garden about his favorite dessert beer, he reached for this. 100% straight barrel aged Older Viscosity. With a black color and dark caramel and chocolate overtones, Tim agreed with Tom's (from Ron's Originals) recommendation for Old Viscosity, "take this one slow and enjoy it with a stogie." 12.5% ABV
Jen at Appetites on Main loves the Creme Brulee. She says, "it's like the bottom of an Irish Car Bomb," the popular shot and a beer combination. This is a creamy dessert beer, rich in flavor, excellent for those with a sweet tooth who don't tend to drink beer. 9.6% ABV. This is a milk stout and has lactose sugar added to the bottle. Creme Brulee can be found on tap in local restaurants but is also available in bottles for takeout. Ron's Original, Appetites on Main and Waywood Beverage in Kennett Square all carry it.