La Verona, a new classic Italian restaurant, opened on State Street in early November. Brothers Jack and Sam Majrav, along with their cousin Ari, have collaborated to bring authentic Italian cuisine and exceptional service to the space where Newton's on State once stood.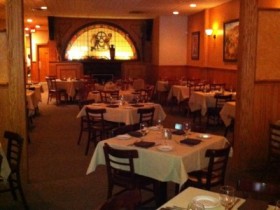 Inside, high top tables provide a view onto State Street and the town's Christmas Tree. The dining room is large, with light brown accents, paintings, and linen tablecloths. A stained glass piece of art anchors the room. La Verona is currently a BYOB, though they are in the process of obtaining a liquor license. There is currently no corking fee.
After interviewing the owners a few times about the transformation, Jack invited us to sit down and enjoy a classic Italian meal, La Verona-style. We went on a Monday night, and a few diners sat at nearby tables. Our waiter, Matthew, was very personable and knowledgable of the dishes. Once we were seated, we were promptly served fresh warm dinner rolls and water. Jack suggested we sample three appetizers from the menu, which lists each dish in Italian with an accompanying description in English.
We sampled a bowl of Zuppa de Funghi–a fresh, exotic mushroom soup. This was flavorful and creamy, with an abundance of sliced mushrooms.
The Insalata de Arugola (below, to left) was a beautiful presentation. This salad consisted of arugola set on fresh tomatoes and lightly coated with extra virgin olive oil and balsamic vinaigrette. Three slices of Parmesan cheese were layered on top creating a teepee effect. This was a delightful light dish.
We also sampled the Carciofi Arrostiti (above, to right). Roman-style artichokes were roasted and placed on a plate with prosciutto di Parma, fresh mozzarella and green olives, and drizzled with white truffle oil. The artichokes peeled back softly and the combination of the warmed artichokes with the prosciutto was fabulous.
The Calamari Fritti (fried calamari) was flavorful and came served with traditional marinara sauce.
For my entree, I had the Tagliatelle la Verona (below, to left). This bountiful plate consisted of scallops, shrimp, zucchini, tomato and fresh mozzarella over the tagliatelle pasta. The scallops were plump and the zucchini, shrimp and tomato were well balanced in the dish.
The highlight of the meal for my date was the Veal Piccata (above, to right). Sauteed veal scaloppini with lemon, capers, and a white wine butter sauce. The veal was tender and she could cut it with her fork. I was fortunate that she let me try a piece. The zest of the lemon with the veal was excellent.
Jack stepped out from the kitchen to chat. He said they have been happy with the response from diners in their first month, and that weekends have been busy. He is looking forward to getting the liquor license and opening the bar.
Find La Verona at 114 East State Street in Kennett Square. For more information or for reservations, call 610-444-2244.