By Mary Bigham and Amy Strauss
With a new year comes the opportunity to try to new dishes and restaurants from the amazing culinary talents in Chester County. We've combed through our files to find our favorite bites and have created a master list of must-try dishes for 2012. Here are our picks for stand out, full-flavored dishes sure to make this a stellar  year for dining in Chester County.
Effn' Hot Peppers & Caramelized Onions Antipasti Carne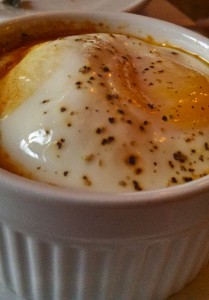 Avalon Pasta Bistro, 78 West Lancaster Avenue, Downingtown, pastabistro.com
Chef John Brandt-Lee's second restaurant creation, Avalon Pasta Bistro, debuted spring 2011, bringing a rustic farmhouse feel to prix fixe. He also gloriously introduced "small portion, family style" Italian dining to Downingtown. While each option of his established three-course prix fixe is well-worth a trip down Business Route 30, his second courser–an adventurous antipasto that arrives capped off with a fried egg–is always the icing on the cake. The flavorful mix of peppers and potato are packed into a petite cup, and the addition of caramelized onions and pancetta make the darling dish pop. Of course, we are equally impressed with his flatbreads, which each provide a tangy combination of fruits paired with their respective cheeses.
GTC Chocolate Bars
Eclat Chocolate, 24 South High Street, West Chester, eclatchocolate.com
Garces Trading Company, 1111 Locust Street, Philadelphia, garcestradingcompany.com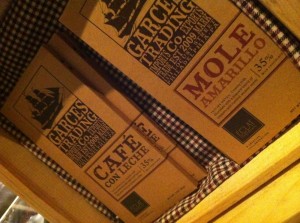 In late 2011,  Éclat Chocolate master chocolatier Christopher Curtin concocted, with the assistance of Iron Chef Jose Garces, signature chocolate bars for Garces Trading Company of Philadelphia. The GTC Chocolate Bars, available at $8 a piece, combine single-source dark, milk or white chocolate with unusual chef-selected combinations. While they are available in four varieties, one in particular has our chocoholic hearts aflutter: the Cafe con Leche. The silky-smooth, high-quality milk chocolate blended with Chef Garces' signature Reserva artisanal coffee creates one mesmerizing on-the-go sweet treat. More into savory desserts? Consider the Porcini & Thyme, a skillful white chocolate bar infused with earthy porcini powder and fresh organic thyme.
Pizza au Foie Gras
Gilmore's Restaurant, 133 East Gay Street, West Chester, gilmoresrestaurant.com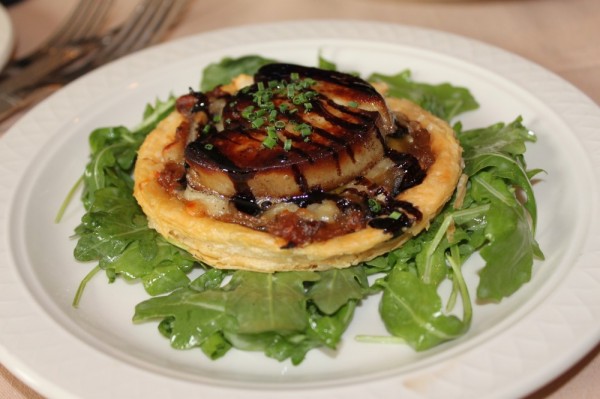 In late fall 2011, Chef Peter Gilmore revealed several changes at his East Gay Street spot, Gilmore's Restaurant, one of which included the debut of Sunday Brunch. On the menu? An incredible, petite puff pastry "pizza" served with Asiago cheese, caramelized onions and seared foie gras. Another fine-tuned, mid-morning masterpiece that the chef whips up is his salmon rillettes. The stellar presentation perched atop a seasonal flower on a martini glass made each pillowy bite of house-smoked seafood memorable.  The caviar finish made us feel like we had just ordered the most devine room service in our fuzzy bathrooms at a five-star hotel. We were just giddy with each bite and think you will be too!
Effective immediately (as of Jan. 22, 2012), Gilmore's Restaurant no longer serves Sunday Brunch.
Scrapple Delights
Station Taproom, 207 W. Lancaster Ave, Downingtown, stationtaproom.com
Side Bar & Restaurant, 10 East Gay Street, West Chester, sidebarandrestaurant.com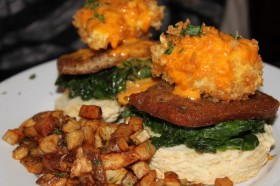 Station Taproom also joined the "now-serving" Sunday Brunch ranks in 2011. Order up beer-centric eatery's crowd-pleaser, the Scrapple Benedict. As conceptualized by the taproom's culinary team–led by Chef Tim Smith with Sous Chef Kristin McCouch, they deep-fry the poached eggs, serve them over a house-made, halved cheddar biscuit, and finish the Sunday special with sauteed spinach, local scrapple, and your choice of traditional or spicy hollandaise. Their homefries will also perk up your weekend morning: They've perfected the art of fried potatoes by cooking the raw cubes in duck fat, and lightly seasoning them with sprinkles of tarragon, parsley and thyme.
Consider yourself a scrapple fanatic? Plan a pork crawl on a Sunday, and also hit up Side Bar and Restaurant to explore their culinary tag-team's (featuring Dave Young and Blaise Labik) love for pork scraps and trimmings. With specials like scrapple benedicts, scrapple breakfast pizzas, scrapple burgers and the ultimate breakfast fix, the Side Bar Scramble (eggs, cheddar, scrapple, and potatoes all covered with creamy chipped beef gravy), you'll be in piggy heaven.
Wood-Grilled Flatbread with Beef Short Ribs, Red Onion Jam
Restaurant Alba, 7 W. King Street, Malvern, restaurantalba.com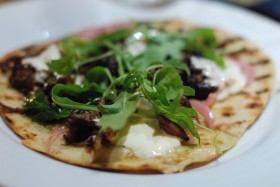 Late December 2011, Restaurant Alba's chef/owner Sean Weinberg and wife Kelly Weinberg premiered the new bar area within their Malvern restaurant–one that was formerly a BYOB. Part of their expansion included the debut of a new bar menu which was inspired by the traditions of the Northern Italian Aperitivo. While the casual bar snacks like house-cut fries with homemade ketchup and goat cheese-stuffed dates always hit the spot, what thoroughly impressed our palates (and has us always craving more) is his wood-gilled flatbread topped with juicy beef short ribs, tangy red onion jam and horseradish cream. And, don't skip exploring the new drink menu, either. The beverage program is already acclaimed to be one of the "most thoughtful and impressive" wine lists, as noted by Wine School of Philadelphia instructor David Snyder.
Twelves' Burger
Twelves Grille & Cafe, 10 Exchange Place, West Grove, twelvesgrill.com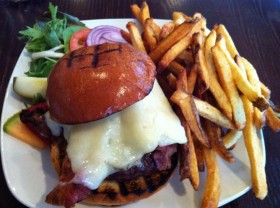 Chef Tim Smith and his wife, Kristin, transformed an old Sovereign Bank in the center of West Grove into a splendid modern cafe and BYOB a few years back. Their signature Twelves Burger is a subtle, refined beast–eight glorious ounces of grilled Birch Run-raised, grass-fed beef that's topped with Lancaster cheddar cheese and thick slabs of Green Meadow Farm bacon. The sizable, three-quarters-of-an-inch-thick burger lays cozy on a brioche roll and comes with a generous portion of house cut bistro fries–the fries always salted "just right."
Pike
Cakes and Candies by Maryellen, 1332 West Chester Pike, West Chester, cakesandcandiesbymaryellen.com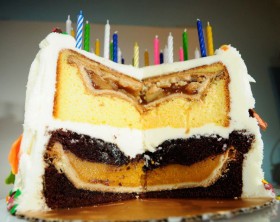 Who said that you can't combine more than one dessert into a massive, marvelous cake? Enter Baker Maryellen Bowers' PIKE: A delicious rendition of two pies and two flavored cakes in one beautiful, layered cake. The towering, 18-pound cake is constructed with two layers: The bottom, a chocolate cake stuffed with a pumpkin pie and the top, a yellow cake with an apple pie cozy inside. To finish, Bowers smears a generous dose of her notorious buttercream amongst the entire Pike's exterior – finishing off one of the best cakes to ever hit Chester County! An 8″ Pike is available at $55 per cake and a 10″ is available at $75.
Nachos Con Chorizo
Hacienda La Michoacana, 101 Bridge Street, Phoenixville, lamichoacanamexicangrill.com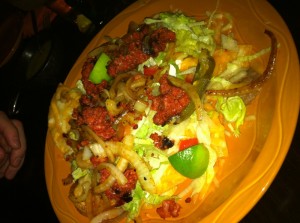 Two authentic Mexican restaurants joined the ranks of Bridge Street's restaurant row during December 2011, one being Hacienda La Michoacana, a sister restaurant to Norristown's Taqueria La Michoacana. Vibrant in bright blues and yellows, locals flock to the former train station spot to belly up at the spacious bar, sipping pitchers of sugary, fruit-infused margaritas. The traditional grub is all here, from enchiladas and fajitas, to tostadas and chalupas. But, what keeps us coming back are their variety of nachos–particularly the platter that boasts copious amounts of Mexican sausage. Grab a drink and a happy hour date, and dive into this appetizer. Fresh tortilla strips line the plate, deliciously piled high with Jack cheese, guacamole, black beans, sour cream, jalapeno-pickled peppers, and of course, the meaty namesake.
Smoked Seafood
Sugartown Smoked Specialties, 306-1Q Westtown Road, West Chester, smokedfoods.com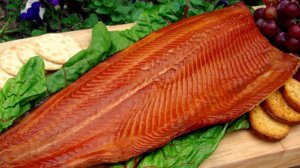 Any of these smoked delicacies will make you the host with the most and leave your guests wanting more.  You could, of course, just buy some treats for yourself and not share the deliciousness.  Our favorite bites for 2012? The smoked salmon spread (perfect for snacking and entertaining) and the Gallo award-winning natural-smoked Tasmanian trout.  You haven't had smoked fish until you've tried this one!
Banana Roll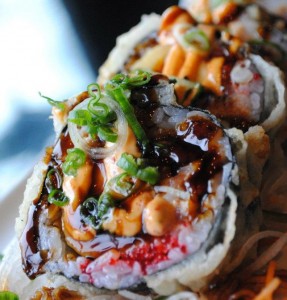 Nectar, 1091 Lancaster Avenue, Berwyn, tastenectar.com
Chef Patrick Feury teams up with Chef de Partie Kenny Huang to reinvent French-inspired, Asian-infused dishes. With the use of locally-sourced, organic ingredients, the kitchen duo dares to give your standard maki rolls a face-lift that will feed your sushi soul.  Grab your chopsticks and give this culinary team's creations a try.  Our pick for you to try in 2012? The spicy tuna, red flying fish roe, baby banana, tempura roll. It's sure to take your taste buds on a culinary joyride.
Homemade Chestnut Ravioli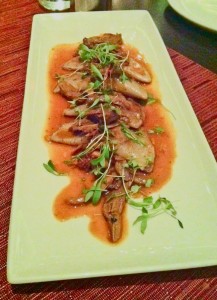 Paramour, 139 East Lancaster Ave., Wayne, paramourwayne.com
Wayne Hotel's Paramour serves modern, seasonally-inspired American cuisine in four-concept spaces. Whether you want to dine on the outdoor veranda, in the lobby lounge, at the lively bistro bar, or in the main dining room with a view of the open kitchen, there's one dish you can't miss: the house-crafted chestnut ravioli. The pinch-perfect pasta arrives topped with shredded Lola duck and local mushrooms–all served in a brown butter sauce.  Rich and deep, yet remarkably delicate, it comfortingly captures the essence of cool-weathered months. The ravioli alone is worth the drive to Wayne.
Photographs credited to Allison Benford, Jim Breslin, Aly Debbas, Michelle McGinley, Lauren Reidinger (Nectar Restaurant & Lounge), David Snyder and Amy Strauss.