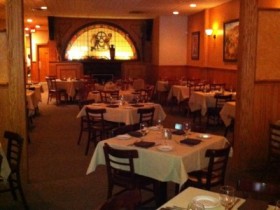 La Verona, the classic Italian restaurant that opened on State Street in early November, recently announced they will start serving brunch on Saturdays and Sundays. The new menu will go into effect on Saturday, January 14th.
New menu items include dishes such as smoked salmon pizzeta, portobello and scrambled eggs panini and chocolate chip pancakes. Brunch will be served from 10:30 a.m. – 3p.m.
Remember, La Verona is currently a BYOB so you should bring your own mimosas!
Here's a full look at the Brunch Menu.
Primi
Smoked Salmon Pizzeta $9.50
Mascarpone , red onion ,and capers 
Shrimp avocado Panzanella  $11.50
Mixed greens, house dressing, herbed croutons
Frittatas 
Potato spinach & fontina  $9.50 
Cappelini, Bruschetta  tomato, fresh mozzarella  $9.50 
Italian sausage, pepper &onion  $9.50
Steak and eggs     $15.50
6 oz Delmonico /w 2 fried eggs
Panini 
Al pollo        $9.50
Grilled chicken roast pepper mozzarella 
Portobello & scrambled eggs Panini  $9.50
Provolone cheese  tomato on house made Panini bred
Pancakes  $ 8.50
choice of Chocolate chips or blueberries 
Panettone   $9.00
With strawberries and whipped cream
La Verona is located at 114 East State Street, Kennett Square, PA. Call 610-444-2244 for reservations. You can read our dinner review of La Verona here.