Buho's Mexican Restaurant is the latest addition to the international dining row that's formed in Exton's Fairfield Place Shopping Center. Set back in the corner, Buho's Mexican now sits alongside Capriotti's, Lasorda's Italian, Jas Himalyan and China Buffet.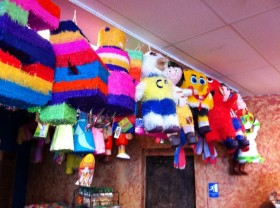 Inside, colorful tables and chairs are set throughout with a low wall delineating a private dining section. One wall is painted blue and features two large Mexican paintings. A row of oversized pinatas, which are for sale, hang from the ceiling and give a festive feel to the dining space. Buho's also has a small sampling of Mexican groceries, sodas and candies for sale.
The waiter brought out warm, tasty chips and three types of salsa to sample – spicy, medium and mild. It's always fun to sample a variety of salsas. My unsweetened iced tea was large.
I ordered the Enchiladas Mexicanas (seen below), corn tortillas stuffed with chicken, off the lunch menu for $8.50. On top sat a pickled chile which was sweet with a spicy finish. The enchiladas dish had shredded lettuce, diced tomato, onion, sour cream and queso fresco with red and green sauce and was served with rice and beans. A slice of fresh avocado was a nice touch. It proved to be a satisfying lunch.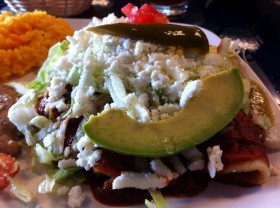 The lunch menu features appetizers such as Queso Fundido, several versions of Nachos, Chorinachos, and the Buho Mixto, which is a combination of chicken taquito, steak chalupa, pork tamale, chorizo quesadilla and one sope con queso.
Tacos can had with your choice of steak, shredded pork, chicken, Mexican sausage, pork with pineapple, or beef tongue.
Enchiladas can be ordered with a choice of chicken, steak or carnitas. They offer Enchiladas Poblanas, Mexicanas, Rojas, Verdes, and Suizas. They also offer Enchiladas Del Mar with a choice of shrimp or tilapia.
Another lunch offering, the Mexican Sandwich, also sparked my attention. The sandwich is made with a special Mexican bread and stuffed with mayo, lettuce, tomato, onion, avocado and chiles in vinegar, and your choice of chicken, Mexican Sausage, shredded pork or breaded steak or chicken. It is also served with rice or french fries.
On the dinner menu, Buho's continues to feature enchiladas, tacos and more, but also offers speciality entrees ranging from $12 – $24. The Bistek a La Mexicana is a marinated steak with onion and jalapenos cooked in a Mexican Style tomato sauce for $13.95. The Molcajete Azteca is a combination of pork chops, steak, chicken, shrimp, queso fresco, cactus and a tangy sauce. This includes radishes and lime, and is served in an original Mexican rock molcajete for $23.95.
Buho's Mexican Restaurant is located at 115 Swedesford Road in Exton, PA. They offer take-out, catering and is available for holiday parties. They are a BYOB. Call 484-872-8840 for more information.