Have you been yearning to grow fresh fruits and vegetables but you don't have the time or space?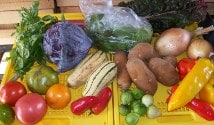 The next best thing might just be to buy a share of fruits and vegetables through Community Supported Agriculture. Northstar Orchards in Cochranville is a local CSA that is now offering both vegetable and fruit shares for the Summer 2012 Season.
A vegetable share begins on June 1st and runs for 22 weeks. A vegetable share runs $500 and you would pick up every Thursday from the farm in Cochranville.
A fruit share starts on August 1st and runs 12-15 weeks. A 12-week fruit share costs $235 and a 15-week fruit share is $285. Pickup can be made from the farm in Cochranville or there is the opportunity to pick up in Eagle, above Exton at a weekly assigned time.
You can learn more about what is included in the fruit or vegetable shares, how pick ups are arranged, and apply for a membership through Northstar Orchards.