A casual new Mediterranean restaurant opened up late last month in the west end of Media.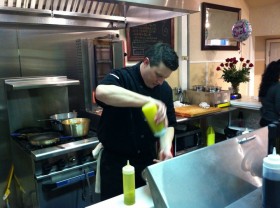 Desert Rose is owned by Jason McHugh, who has been a chef at several local restaurants in the Delaware Valley. On a recent Saturday night, we stopped by and found the Desert Rose packed with diners who had brought their own six packs and were enjoying the laid back atmosphere. Jason worked meticuously behind the counter, making Chicken Schwarmaras as fast as his cashier could ring them up.
Media Dish: What was your inspiration for creating a Mediterranean themed restaurant?
Jason: I wanted to open a Mediterranean restaurant for two reasons really. First – the food itself. It's healthy, fresh, colorful and appeals to a wide range of people and it tastes good! Second – there was, in my opinion, I big need or gap in the Media restaurant scene for this style of food and dining.
Media Dish: Tell us about the dining aspect?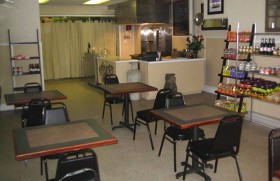 Jason: The dining aspect of Desert Rose is a key component to understand. The food that we are serving, for the most part, is street food. It is casual. We are not a functioning restaurant really at this time. We are a small specialty market that does accommodate about 12 people at this time. I am not really capable of serving 80 to 100 people in a day. There will be days that we can run out of certain items because everything is done fresh daily – even the bread.
Media Dish: Any other future additions you are working on?
Jason: We do have plans to expand the operation down the road with the addition of more seating inside and out, and the introduction of the 'Shulhan," the table in Hebrew or (Chef's Table) that I would like to begin to offer by mid to late summer. It's a private 8-10 person table that will be a prix-fixe dining experience – probably six courses, that will be accompanied by a traditional Israeli style meal – a number of small salads and anti pasta style dishes, fresh bread and hummus as well. The Chef's Table will be available to start on Saturday night, 7-10:30 pm. One seating an evening.
Media Dish: Why the name Desert Rose?
Jason: The name Desert Rose is an indirect nickname for my wife Natali who is from Israel and is half Moroccan and half Iraqi.
Media Dish: I believe I read you've worked at a few other restaurants, can you tell me where?
Jason: My background is a bit unconventional. I never attended a culinary school. I lived and worked abroad in Ireland, Sardinia, Italy and St. Thomas in the US Virgin Islands. Here in Philly, I was the Executive Chef years ago at the Chadds Ford Inn. I was the Chef Di Cuisine at Deux Cheminees, La Boehme and I also was the Executive Chef at Picasso Restaurant and Bar in Media when it was launched.
Media Dish: Can you tell me a little about the market? What you are offering?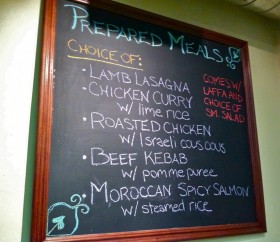 Jason: The idea behind the Market was that I wanted to be able to offer some snack items from Israel and the Middle East, along with offering some of the unique items that have on our menu, like certain pickles and peppers, baby pickled eggplants and certain items that I make myself – infused salts and oils, preserved lemons, garlic confit and our Bistro Sauce. We also will be having meals to take out. Something quick that you can grab out of our freezer and take home, pop in the oven or the microwave. As we get settled in there will be additional Mediterranean and Middle Eastern dishes and items that we hope to be able to sell.
Desert Rose is located at 305 West State Street, Media, PA.