On Tap is a regular column featuring our recommendations on the most unique new draft beer offerings from local pubs. 
Our Recommendation:  Cocoa-nut Single
Where: Iron Hill Brewery & Restaurant, 30 East State Street, Media, PA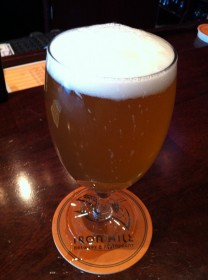 To celebrate the opening of their outdoor seating area, Iron Hill Media held a Patio Luau on Thursday night, April 12th and launched Cocoa-nut Single, a traditional Belgian single that was made with a whopping 75 pounds of fresh roasted coconut.
This is a beautiful beer with a light amber color and a beautiful foam head that was served in a goblet. With the first sip, I thought I had just tasted a Mounds bar or something from my son's Easter basket. Evidently, Bob Barrar and the brewing staff was inspired by the coconut creams from nearby Bevan's Candies when they made this delectable Belgian. Though cocoa nibs were also added during the brewing process, I didn't sense a chocolate note. My friend Lou offered his point of view on this refreshing beer, "this is a warm weather beer, it reminds me of the beach. This could replace a pina colada."
The Cocoa-nut Single comes in at 5% ABV, and since it's not too sweet, it's an excellent sessionable beer. It's a perfect way to celebrate the coming summer or to drink while you and friends are making plans for the beach.