Collaboration of Iron Hill Brewery & Restaurant and the West Chester Beer Ladies will benefit Home of the Sparrow
When regional brewer Larry Horwitz from Iron Hill Brewery & Restaurant explains beer making, it sounds oh-so-simple. What the West Chester Beer Ladies (WCBL) recently learned is it takes a lot of old-fashioned hard work plus a dose of fun to make Iron Hill's beers taste so fresh.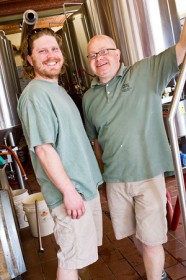 Larry and brewer Mike Rutkowski spent a Saturday morning schooling the WCBL on their craft to produce Sparrow Saison, a honey saison that will be sold to raise money for Chester County's own Home of the Sparrow. Honey Saison will launch at 6 p.m. on Thursday, May 10th, and you don't need to be a beer lady to attend the celebration.
The short story on brewing? It's a lot of mixing, waiting and documenting to get delish results. Ground grain is combined with really hot (not boiling) water in the "mash tun" where simple sugars are created from the starch so the yeast added later can eat them up. When it's just right, lautering occurs as more hot water is passed over the grains to remove the sugar water. That wort is drained and moved to the kettle, where it's boiled. There, the first bit of magic occurs as hops are added, then a wee bit of powdered yeast and, finally, the secret sauce, in our case, honey. Again, when it was just right, that concoction is cooled and moved to the fermentation tank where, in the blink of an eye, liquid yeast (and a lot of it) is added to activate fermentation. Honey Saison is in Fermenter 4, "our" fermenter, which, after all that love, those in attendance vowed to visit until Honey Saison is ready for its close-up.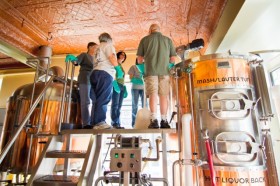 Now for the fun part: we got to take part in every step of the process (well, except for cleaning after each stage, which Larry and Mike insisted on handling). Larry took us back into the inner sanctum of his brewing operation to show us where the grains are stored and milled. We tried the nubby hard malts; even as small grains, those powerhouses packed amazing flavors. The grain is then shot over to the mash tun. After donning thick, protective gloves that made me feel like the Incredible Hulk, I climbed to the top of the mash tun with other brave WCBL attendees. We stirred (actually shoveled), monitored the temperature and enjoyed the amazing aroma. It smelled like the best oatmeal you'll never actually get to eat.
After lautering, Larry kept a close eye on the wort, letting us taste it at various stages so we could experience how the sweetness changed and see how it cleared from its original cloudy state. More magic: in the blink of an eye he and Mike moved it to the kettle and while it boiled, I and many other WCBL made quite a mess sparging the mash. That is, we emptied it into five giant, clean garbage cans. Why clean? Because the mash is fed to local cows. Lucky cows!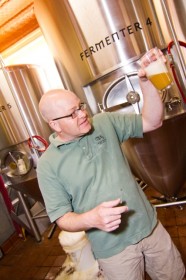 Boil, boil, toil and WCBL troublemakers. Larry and Mike gave us tastes from the different fermenters – beer in progress. It was amazing how beers we know and love can taste sort of like their finished selves at different stages, but not quite. It gave me an appreciation for the chemistry at work. Naturally, what would a trip to Iron Hill be without tasting beer from the tap? Luckily, we didn't have to find out, since Larry generously served as educator and bartender.
When we got the call that it was time to add the hops, WCBL founder Colleen Bergin Perrin was afforded the honor of measuring them out. Other members of the group took turns merrily tossing them into the boiler, and then a bit later, adding a touch of dry yeast.  More waiting ensued, but the growing aromas, tapped beer and signature Iron Hill snacks made it more than bearable.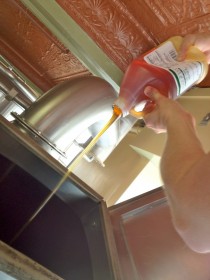 When our brewers decided the time was right, the honey was tossed in by the able hands of WCBL President Ronna Gross Dewey and friends. We could barely wait for the moment when our Honey Saison would be quickly cooled through the heat exchanger and moved to the fermentation tank.
Now, we were impressed with Larry and Mike throughout, but at this stage they became mad scientists. Larry ushered us all into the room and sealed it off. Mike, gloved again, disinfected just about every surface in sight before quickly whipping open the liquid yeast container, measuring and speedily pouring it into the tank. He explained how important it was to use the right yeast, in the right amount, and that no outside forces are given even a second to contaminate. Right now, in Fermenter 4, that yeast is turning sugars into alcohol to give our Honey Saison an appropriate kick.
Two to three weeks from now, our brewers will decide the beer has been properly conditioned, and will filter it to remove all traces of yeast. When that's done, into the serving tank it will go so eager Iron Hill patrons may quaff the fruit of our efforts and contribute to a good cause.
Want to experience this tasty collaboration and help Home of the Sparrow? Then May 10th at 6 p.m. needs to saved on your calendar. Now. More information will be available on the WCBL's Facebook page and on the Iron Hill website as the event nears.

About Home of the Sparrow
Their mission is to provide housing and supportive services to homeless and low-income women who want to improve their lives and become self-sufficient. Iron Hill is a regular supporter, and recently donated 20 percent of select dinner proceeds to this worthy cause.
View many more scenes of the brew day by clicking here. Photographs are credited to Nina Lea Photography.