Do you think entertaining your friends with a cooking show while supporting The American Cancer Society seems like a difficult goal to accomplish? Think again! In honor of Mother's day, The Pampered Chef, in collaboration with The American Cancer Society, is helping women everywhere by raising funds for education and early detection programs through its Help Whip Cancer campaign.
Throughout May, The Pampered Chef invites people to join the fight against breast cancer by hosting a Help Whip Cancer Fundraiser Cooking Show. Guests can taste delicious, affordable recipes and learn valuable cooking tips while raising money for breast cancer awareness and early detection. Up to 25% of total Fundraiser Show sales will be contributed to the American Cancer Society.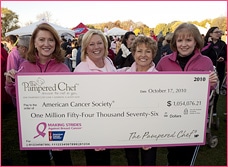 No time or space to host a show? Pampered Chef customers can also Help Whip Cancer by purchasing pink limited-edition kitchen tools that are available only in May. One dollar from every pink item purchased will be contributed to the American Cancer Society. Since Help Whip Cancer began in 2000, The Pampered Chef has raised more than $10 million for the American Cancer Society but there is always room for more support. The campaign and its contributors invite you to try this recipe in honor of Breast Cancer awareness. Serve it to guests at your Cancer Fundraising Cooking Show or bring it to an upcoming Summer picnic. They will absolutely adore you!
Strawberry-Coconut Tres Leches Trifle
Ingredients
1 lb (450 g) fresh strawberries, divided
3 pkg (3 oz each) soft ladyfingers (about 72 total)
1 can (14 oz or 300 mL) sweetened condensed milk, divided
1 can (14 oz or 398 mL) unsweetened coconut milk, divided
1 container (8 oz or 250mL) sour cream
1 container (12 oz or 1 L) frozen whipped topping, thawed, divided
1 pkg (3.3 oz or 102 g) vanilla instant pudding and pie filling
1 tsp (5 mL) Kortinje Cinnamon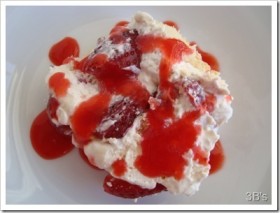 1.Set aside one strawberry for garnish. Hull remaining strawberries and slice. Cut ladyfingers into 1-in. (2.5-cm) pieces; set aside.
2. Whisk together 1⁄2 cup (125 mL) of the condensed milk, 2/3 cup (150 mL) of the coconut milk and sour cream into large bowl. Add ladyfingers and toss gently.
3. Set aside 1 cup (250 mL) of the whipped topping. Combine pudding mix and remaining coconut milk in a mixing bowl; whisk until thickened. Add remaining condensed milk and cinnamon; whisk until incorporated.
Fold in remaining whipped topping.
4. To assemble, place half of the ladyfinger mixture into a Trifle Bowl; top with half of the strawberries. Spread half of the pudding mixture over strawberries. Repeat layers one time. Pipe whipped topping over top, garnish with strawberry fan.
Yield: 24 serving
For more information about Help Whip Cancer, hosting a Fundraiser Cooking Show or purchasing Help Whip Cancer products please call Erin Phelps, Independent Consultant for The Pampered Chef, at 215-359-5534, e-mail chefphelps@gmail.com, or visit www.pamperedchef.biz/erinphelps.
Photos credited to Pampered Chef.