Rino's Italian Restaurant is giving you several opportunities to support Nancy Lewis and the Mid-Atlantic Lung Transplant Fund. The first chance you have is on Sunday, May 6 from 5 pm to midnight. However, immediately following that day of getting great food and giving to a cause, you will be able to do it again and again at any time of the day from Monday, May 7 until Sunday, May 13.
Diners don't have to eat-in to participate although that is where the big hunk of help comes from. If  guests decide to take-out, 10% of their meal price will be donated to HelpHOPELive. If diners decide to take of their coat and a stay a while, 20% of the bill will go to the benefit. Each proceed option is greatly appreciated as the money raised will help with Nancy's post-transplant expenses. Please be sure to present the flyer shown below at your time of purchase, in order to lend a helping hand. For more information, please don't hesitate to contact Nancy Lewis at 610-524-7878.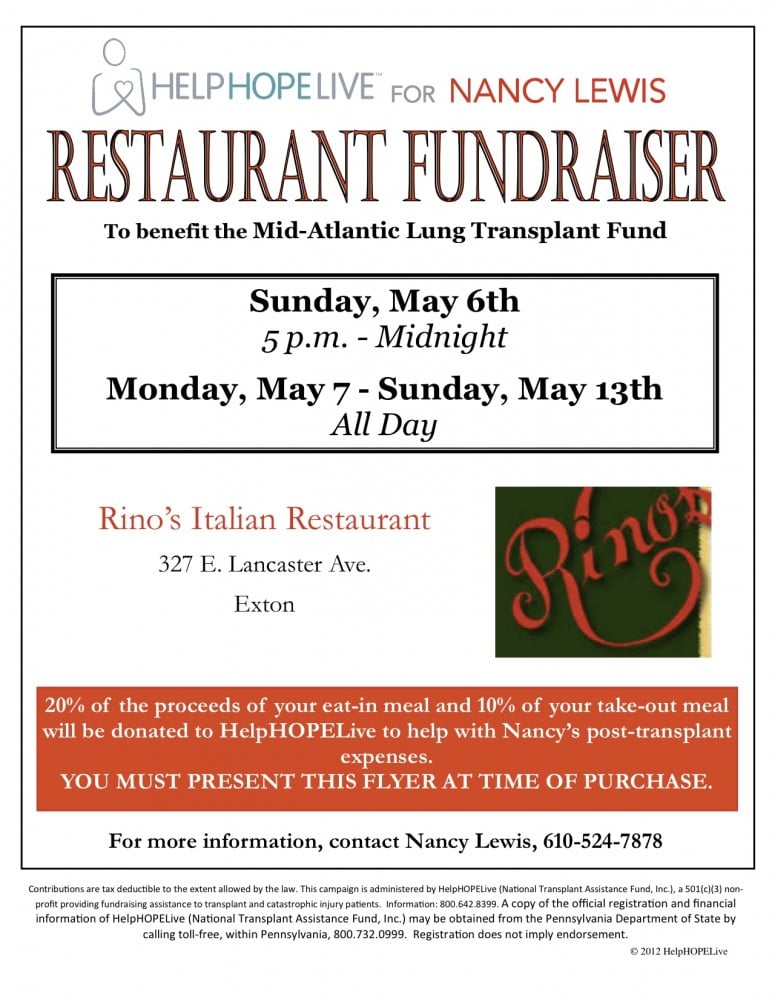 For over 25 years, Rino's has been offering fantastic Italian food at great prices. Stop in for a quick pizza, or order one of their special dishes. They are open 7 days a week, Monday through Sunday, from 11 am until midnight.