I stopped in to check out Desert Rose on a recent weekday and found it to be hopping with a lunchtime crowd. Chef Jason McHugh was working his magic behind the counter, occasionally walking the finished kebabs and sabiches out to customers as he finished each creation. Every table was taken. Luckily, just as I was about to order, a couple finished and I quickly grabbed a table.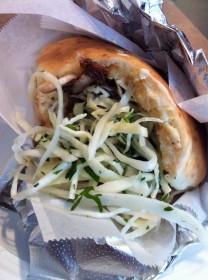 Chicken Shawarma was on my mind. After a few moments, this delightful Mediterranean sandwich was brought to my table. The first thing I noticed was the beautiful pita bread. This was not the thin pita we often see in these parts, it was soft, fresh, and thick. The chicken had been roasted on the spit behind the counter and the pita was filled with diced cucumbers, tomatoes, hummus, fresh herbs and topped with a bit of crunchy cabbage slaw. It came served in foil for easy handling, reminding me that shawarma is a true street food. It was delicious and filling.
A short time later, Jason was able to sneak out from behind the counter and sit for a few moments. He said the last six weeks have been hectic. He opened Desert Rose on March 1st. "It's been consistent and all word of mouth," he said. "I'm an out of the way place but it's working."
I had to ask about the pita bread and how puffy it was. "Real pita bread in Israel is like that," he noted. "I have a special oven I use for the pita bread. In Israel, over eighty percent of the sandwiches are served on pita." He is now selling the pita bread in three packs for $2.75.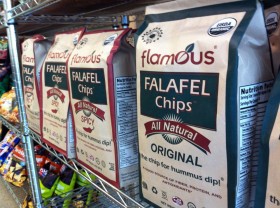 Jason is slowly building the goods available on the shelves, realizing his plans to make Desert Rose a Mediterranean marketplace. As we chatted, a delivery man dropped off boxes of falafel chips. "The market is coming along. The stuff I'm buying is expensive and hard to get." He notes some purveyors have driven goods down from New York. He also just started receiving baklava, which is made in Dearborn, Michigan. Also new is the Borecas–a Turkish pastry that comes in three types, and is stuffed with a choice of cheese or cheese and spinach or mushroom. They look like soft pretzels, and I picked one up to take home and share with the family.
Asked what the biggest surprise has been since opening, Jason said, "The vegetarian crowd is a big surprise. I wasn't considering the vegetarians. Half our menu is vegetarian and vegan. We do our best to cater to them." He notes the Jewish community has embraced the store, and he has some Lebanese ladies who come in for shawarma.
Jason has been learning on the fly. He said there is sometimes a wait for a table, and that one night a family was content to eat their hummus while standing until a table opened. He also noted being the only chef in the kitchen gets hectic, though he loves it. "I can get food out quickly, but don't want to compromise the integrity." He said that early on, "I had times where I've run out of food, or I'm out of bread and out of shawarma." He just received his outdoor dining permit and hopes to have outdoor seating available soon.
He's also thinking about starting Mediterranean tapas at night, possibly in another month or so. "People come in and I think it is such a unique concept–it's very casual. It's street food–meant to get on the run." At night, folks show up with six packs or a bottle of wine for an inexpensive night out with friends.
Desert Rose is located at 305 West State Street, Media, PA. Call 484-442-8012 for more information or takeout.