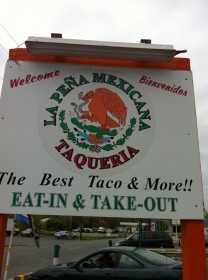 Authentic Mexican food is meant to be inexpensive, quick and spicy.
I had driven by La Peña Mexicana Taqueria a few times, and always noticed the traffic–folks coming or going. The sign outside reads "The Best Taco & More!!" I finally thought I needed to check it out.
This taqueria sits at the corner of Cypress and South Washington Street just south of the business district across the street from a used car lot. The taqueria itself is in what appears to be an renovated gas station; it's a box-shaped building painted in yellow and brown vertical stripes and the awning is offset in green, white and red.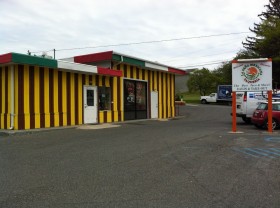 Inside is extremely basic. Yellow walls with wood panels are decorated with posters depicting scenes of Mexico and Aztec emperors. There's seating for  about twenty people, though take-out seems to be popular. A Spanish music station from New York City played over the loudspeakers. A ledge by the counter holds menus in both Spanish and Ingles. They request you order from the counter and they'll bring the food out when it's ready.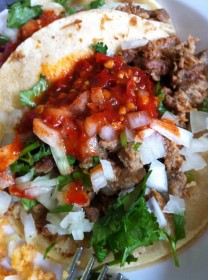 I decided to try two of the grilled steak tacos at $1.90 each, along with a small rice and beans. Each taco was served in two corn tortillas and comes with cilantro, onion, and is served with lime and radishes on the side. When I ordered, I didn't specify red or green sauce so mine came with the red sauce–and I can vouch that this was spicy! By the time I'd eaten one of the small tacos, I'd broken into a sweat. But, most importantly, it was tasty and delicious–I could have gone for a third taco.
At the next table, a group of five construction workers were in the middle of their lunch. They were joking about how spicy their tacos were, and they were digging in, enjoying themselves immensely.
In addition to tacos, they offer burritos, quesadillas, tortas (Mexican sandwiches), Tostadas, Platillos and Chimichangas. They carry a broad assortment of Mexican and American sodas and Boing juices.
La Peña Mexican Taqueria is located at 609 West Cypress Street, Kennett Square, PA. They are open seven days a week from 11 a.m. – 10 p.m. Reach them by phone at 610-925-2651.