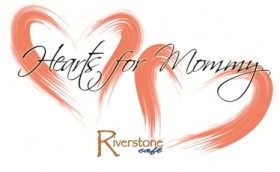 You're showing some love for mothers this weekend so why not show some more in the near future? Sadly there are children who lost their mothers and no longer have a figure to honor for the special holiday. On Thursday, May 17, you can help the unfortunate and enjoy a delicious meal by eating out at Riverstone Cafe.
Hearts for Mommy is a special Riverstone Cafe Tapas Tasting planned for Thursday May 17 from 7-10pm. Pre-purchased tickets are $45 per person or $50 at the door, and are available online through the event website or by calling the Riverstone Café directly at 610-594-2233.
100% of the proceeds from Hearts for Mommy will go towards Mommy's Light, an Exton-based non-profit that provides joy and comfort to children and teens by helping them keep alive the traditions or simple pleasures they shared with their mothers who have passed away.
This fun evening will feature live music, plenty of great food, and a cash bar. I hope to see you there!