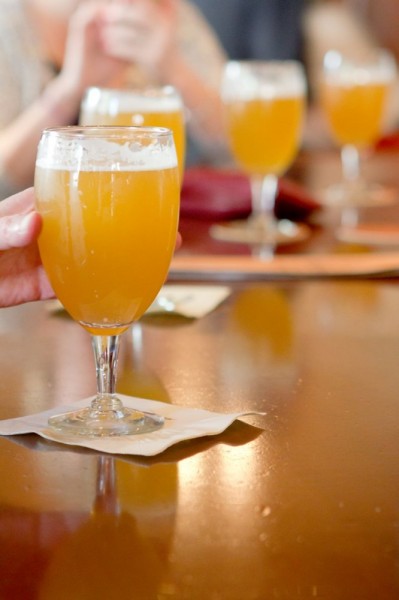 The fruits of the West Chester Beer Ladies and the Iron Hill brewing team's labor came to fruition this week and they were delicious. Delicious and with a purpose, as $1 from each Sparrow Saison sold through Mother's Day will go to Home of the Sparrow.
Sparrow Saison is a honey saison that hits it out of the park for that style of beer. It's crisp and refreshing, bringing citrus–notably a hint of grapefruit, with just a kiss of honey at the end. The beer goes great with Iron Hill's diverse menu. It's also a fantastic drinking beer in case you're out and about looking for a beer (or two or …).
The West Chester Beer Ladies and friends gathered at Iron Hill on May 10 for the beer's launch (full story on that here). Regional brewer Larry Horwitz and brewer Mike Rutkowski were on hand to welcome back those whose blood, sweat and tears when into the brewing process and those who simply came out to sip for the Sparrow.
While Mike expects Sparrow Saison to last about three weeks, those interested in quaffing for the cause should stop in to Iron Hill of West Chester on Sunday, May 13, 2012. What better way to honor a special lady than a freshly brewed Sparrow Saison paired with an Iron Hill menu specialty?
Photograph credited to Nina Lea Photography. Find Iron Hill Brewery & Restaurant in West Chester at 3 West Gay Street or online at ironhillbrewery.com/westchester.