What do you get when you combine local wines and gourmet foods, shopping and a blend of craft vendors, live music and the great outdoors, and friends and family? The perfect pairings.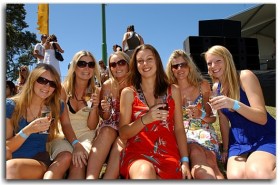 Lucky for us, all of that can be found at Brandywine Food and Wine Festival, presented by the  Brandywine Valley Wine Trail and The Town Dish, on Saturday, June 9 from noon to 6 p.m at the Myrick Conservation Center. This picturesque 314-acre nature preserve is located at 1712-1799 Unionville Wawaset Road.
Skip the long plane ride and jet lag by spending the day tasting the best of the wineries in our own backyard. The Brandywine Valley Wine Trail members – Black Walnut Winery, Chaddsford Winery, Kreutz Creek Vineyard,Paradocx Vineyard, Penns Woods Winery, Patone Cellars and Twin Brook Winery – will be joined by a bunch of wineries throughout the state – Allegro Vineyards, Flickerwood Cellars,Galer Estate Vineyard, Grace Winery, Kog Hill Winery, Karamoor Estate Wines and Peace Valley Winery.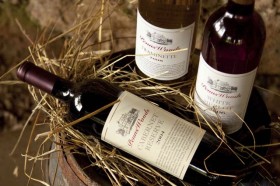 "The beauty of this festival or traveling this trail is you tell the person behind the bar, 'this is my first one, what am I looking for?, What do I do? How do I taste? Do I smell it or taste it first? That's how you learn by doing," said Karen Cline, Brandywine Wine Trail Administrator.
Ticket holders get free demonstrations from leading experts throughout the day. Pennsylvania winery and vineyard advocate, Victor Ykoruk, will be guiding participants through the wide worlds of Chardonnays and Chambourcins. From 1 to 2 p.m., learn cooking tips during a food demo from the chef that was voted "Best Chef in Chester County" two years in a row – Jonathan Amann of Amani's BYOB. From 4:30 to 5:30 p.m., dive into the complex world of being an at-home barista with a coffee 101 lesson from Pike Creek Coffee.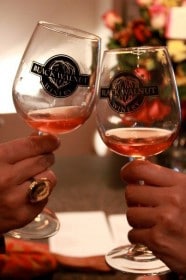 This festival will have more than just great talks about food:Jimmy's BBQ, Mushroom Cap,
Yellow Springs Farm Goat Cheese, Forno Inferno, Bridge Street Chocolates, Hillacres Pride Cheese, Amani's BYOB,Taste of Olive, FreshaPeel Hummus, Sherri's Crabcakes,Pike Creek Coffee, Chester County Beekeeper Association,St. Peters Bakery, Scooped Ice Cream, and many more vendors will be serving their finest creations. No outside food, beverages, or coolers allowed on festival grounds.
Amy Ash and The Volcanos will take the stage and cover your favorite songs with their own twist from noon to 3 p.m. The Big Package Band, the 10-piece band that plays everything from jazz to funk, will hit the stage from from 3 p.m. to 6 p.m. Guests can bid on a winery baskets and season concert passes, stunning jewelry, gift certificates and over 50 items during the Chinese and Silent auctions, with all proceeds benefitting the Chester County SPCA.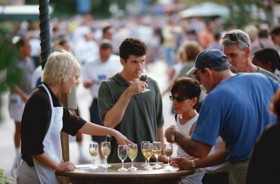 "There are going to be so many different things in one place. It is going to be a taste sensation. It's going to be an action-packed day," said Cline.
Tickets are $10 when pre-ordered, $15 at the gate and $5 for guests between the ages of 10 and 20 and include 10 tasting tickets, a souvenir wine glass and a hands free holder. Tickets can be purchased online or any of the Brandywine Valley Wine Trail's wineries. To learn more about this rain or shine festival, visit their website or like their facebook page.