We can sit here all day and tell you why Philly is the best beer city in America or why you absolutely have to visit for Philly Beer Week.  Don't listen to us, though—check out what some beer luminaries from around the city have to say about Philly Beer Week.
"Most everyone really puts on their A-game. The friendly competition is great. We are each constantly looking how to up our own game. The result is not only a staggering quantity of events, but also a really high level of quality to a lot of them." –Mike "Scoats" Scotese, owner, Grey Lodge & Hop Angel Brauhaus
"I can't imagine that other cities have something similar to the Hammer of Glory relay, Forum of the Gods, the Beer Run and Music Fest, or countless others. It's all about the number of events that are held and beers that come through Philly that week!" –Helene Golombek, PhillyBeerGirl
"If you're a beer lover there is no way you should miss Beer Week. Beer Week is the largest celebration of its kind and helped spawn many other cities' interpretations of their own beer week.  Philly is the Founding Father of Beer Week." –Mike Lubieski, Regional Sales Manager, Weyerbacher Brewing
"We invented it and all others just try to be us; a tough task because we are the best beer city in the country!" –Casey Hughes, head brewer, Flying Fish
"I'm always impressed by the number of events going on at any moment. Rare tastings, meet the brewer, beer dinners with amazing chefs, beer gardens, dunk booth fundraisers, they have it all. But two things bring me back every year: the Hammer of Glory and Late Night with Joe Gunn." –Anne Marisic, Manager, ChurchKey (and Philly expat)
"The beauty of Philly Beer Week is its variety, from beer dinners to 'meet the brewers' to tap takeovers with rare one-offs, some made especially for PBW. But, also important is the showcasing of our local breweries, which I believe is an essential ingredient to a successful Philly Beer Week." –Jared Littman, President, Philly Tap Finder
"The sheer density of events and unique opportunity to meet so many industry folks and sample so many different (and rarely seen) beers in one town for an entire week … This is an opportunity rarely available for most people." –Teresa Clough, events coordinator, The Farmers' Cabinet & Boilermaker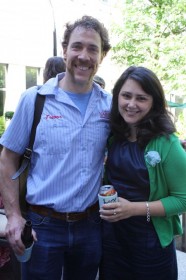 "As has been said many times over the years, Philadelphia is a city of neighborhoods, i.e. South Philly, Kensington, the Northeast, West Philly, etc.. Over the 10 day period that is Philly Beer Week, Philadelphia becomes a unified Craft Beer loving city. There are events all over town and throughout the surrounding suburbs, and breweries from around the world come here to show off their products and interact with their fans. Yes, there are big events like Opening Tap, the Forum of the Gods, the International Great Beer Expo, but the bulk of the events happen at local bars and restaurants throughout the area, and those are the events that I enjoy most. If you love craft beer, great food, and taking in all Philadelphia has to offer, I highly recommend a trip to Philly Beer Week." –Angelo "G-LO", Author, It's Just the Booze Dancing
"Philly gets the people who make good beer happen. We get the brewery owners. We get the most respected brewers in the world to attend, to speak, to shake hands, to discuss beer, and most importantly share some of the best, rarest, most delicious beers anywhere. There is an event to satisfy every curious taste bud and style, from posh dinners to wacky events to simple tap takeovers. You can't attend Philly Beer Week and NOT be satisfied." –Stephen Lyford, unofficial photographer, Philly Beer Week
Photographs courtesy of Stephen Lyford and Amy Strauss. Article previously published on Ryan Hudak's Philly-based craft beer website, In Search of Beer.