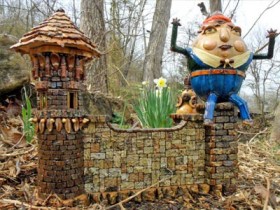 If you're staying in the area this Memorial Day weekend but still want to do something extra special to jazz up your vacation time, the Morris Arboretum's annual Garden Railway will be opening with tons of summer enchantment to share with visitors. There will even be a Grand Opening celebration on Saturday, May 26 from 1-3 pm where children are especially welcome and invited to wear their favorite storybook character's costume.
Guests may explore the special Storytime Rail,  a section tucked inside a curve of one of the fifteen rail lines where you'll find the ominous tower in Rapunzel, the humble home of Peter, Peter Pumpkin-Eater and Charles Perrault's Sleeping Beauty's Castle, covered with brambles and thorns. It really is a fairy tale come true!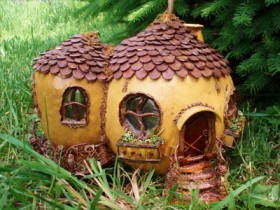 You also can "visit" the shoe shop from The Elves and the Shoemaker, and the Asian palace where Hans Christian Andersen set his story The Nightingale's Song.
There will be a crown-making craft activity, and free ice cream for the first 125 people beginning at 1 p.m.! Don't miss out on this magical experience! Members may attend for free and adults are only $16, seniors $14 and students/military/youth may enter the Garden Railway for $7.
Garden Railway, located at 100 Northwestern Ave. in Chestnut Hill, is open from 10 a.m.-4 p.m. during the week and 10 a.m.-5 p.m. on weekends through September 3. Thursday evenings in June, July and August, the Arboretum is open until 8:30 p.m. and the trains will run until 8 p.m.
Photos courtesy of Morris Arboretum.