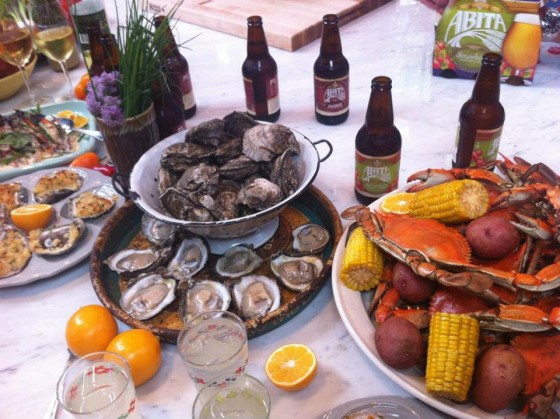 Don't miss this celebration of the New Orleans lifestyle and all the amazing food it has to offer. The Drafting Room is so excited about all the goodies they have to offer, they're doing it for an entire week. Just when you think you're all worn out from Philly Beer Week, The Drafting Room swings in with a week-long Bourbon Street event slated to begin June 11 and run until June 17.
The Taproom and Grille will be featuring a special Louisiana styled menu with more Abita beers than you can wish for. Stop in any time between June 11 to June 17 after 4:30 pm daily and you'll be greeted with this kickin' menu and delicious beers to go with it such as Abita's Amber, Purple Haze, Restoration, Turbo Dog, and Jockamo. If you stop in on June 16th, you'll get an extra treat of live music to go along with the already wonderful food and beer offerings. It's a southern experience you won't want to miss.
Speaking of missing out, don't forget to clear your schedule on June 30th for Drafting Room's 18th Anniversary Ale WORLD PREMIERE. Brewed by Troegs Brewing Company, according to the Drafting Room's specifications, this specialty collaboration brew is one of a kind and you can get your exclusive first tasting on Saturday, June 30th at 12 pm.
Appetizers
New Orleans Crawfish Boil
Crawfish Simmered in a Old Bay & Creole Sauce   9
Grilled Oysters
Gold Band Oysters, Charred Lemon Shallot Butter, Rock Salt   9
 Entrees
Fried Catfish
Batter Fried Catfish, Pepper, Black Bean, Pineapple & Tasso Succotash, Bourbon Spiked Rémoulade, Jalapeño Red Sea Salt Steak Fries 17
Jambalaya
Mussels, Andouille, Shrimp, and Chicken, Tomatoes, Peppers, Chile Green Onion Rice   21
Shrimp Po' Boy
Southern Fried Shrimp, Chopped Lettuce, Tomato, Pickled Cucumbers, Chile Mayo on Seeded Long Roll, Blackened Fries   12
 Dessert
Bananas Foster
Caramelized Bananas, Spiced Rum Sauce over Vanilla Ice Cream   6.95