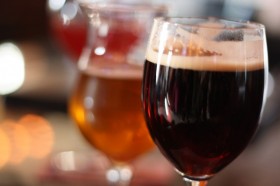 The premiere of The Drafting Room's 18th Anniversary Ale is tauntingly close. You've waited this long, now only a few more weeks to go! Join them on Saturday, July 21 at Noon for the official tapping of this anniversary ale, brewed to Drafting Room's specifications by Troegs Brewing Company.
The 18th Anniversary Ale won't be playing it solo that day, as many other spectacular beers will also be featured on tap like "Jack" Scratch, "Lew" Scratch, Perpetual IPA, Sunshine Pils, Hopback Amber, Flying Mouflon, Troegenator Doublebock and Scratch Series 64.
The Drafting Room figured nothing goes better with such fine beers than a Suckling Pig Roast, so they will be serving a special menu all day to include a Twelve Hour Beer Brine Suckling Pig Sandwich on Brioche Roll with Crispy Onion Rings, Charred Peach & Whiskey Jam, and Boston Bibb Lettuce ($14) or a Twelve Hour Beer Brine Suckling Pig Entree with Whiskey Sweet Onion Jus, and Stone Ground Corn Bread ($18). Both options are served with your choice of Two Sides as well!
The beer and cuisine combination is too good to miss. Plus, an 18th Anniversary can only happen once in a lifetime and you don't always get to celebrate it with a signature brew like this so take advantage of The Drafting Room's special day of fun!
The Drafting Room is located at 635 N. Pottstown Pike in Exton.