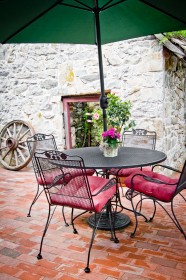 Your favorite classic inne with a new website has introduced a special you don't want to miss. You can take advantage of a beautiful day and snag these deals on the General Warren Inne's enchanting, newly renovated terrace or enjoy them while finding shelter at their cozy tavern. Either way, these specials are here to stay and deserve a taste or two.
The beauty of the Tavern Terrace menu is how it's dining dynamic. There are two portions to the carefully prepared offerings; Small Plate Portions and Lite Fare Portions. Click here to review both full menus. You can indulge in the portion of your choice, depending on your mood that day or tackle both, as you might find they are too deliciously tempting to pick sides.
No matter what you dine on, you'll find that both portion options are designed to allow guests to enjoy their high quality dishes at a surprisingly affordable price. You'll be getting the same taste and ingredients from their regular menu but at a smaller size. It's an unbeatable deal paired with unbeatable flavor so there is no way to go wrong!
This menu is available Monday – Saturday but, best of all, if you visit between 5 to 6 pm the Tavern Terrace Twofers allow you to buy one get one free (Lite Fare Potions only). There is no other place with such sophistication in their cuisine, a comfortable dining environment and friendly staff that will offer a deal like this! Today would be the perfect day for a terrace experience with a side of Twofer Specials.
Curious what's featured on the Buy One, Get One menu? Full menu below:
Grilled Twin 3 oz. Kobe Beef Burgers | $12.00
aged white cheddar and bacon jam served with chips
Grilled Marinated Vegetable Platter | $10.00
red peppers, artichokes, portabella mushrooms, eggplant, zucchini, yellow squash, balsamic reduction and extra virgin olive oil
House Cured Gravlax | $13.00
cornichion, pumpernickel bread, red onion, fried capers, dill créme fraiche
Prime Rib Dip | $12.00
foccacia roll, aged provolone, caramelized onions and tossed greens
Whole Grilled Sardines| $13.50
grilled lemon, tossed greens, and roasted multi-colored fingerling potatoes
Greek Artisan Salad | $12.00
Kalamata olives, pepperoncini, cucumber, marinated mushrooms and feta cheese with lemongrette
Also available:
Pan Seared Shrimp add $6.00
Grilled Chicken add $4.00
Grilled Salmon add $5.00
That's right, you can score a Prime Rib Dip and a Greek Artisan Salad between 5 – 6 pm for only $12! Plus, don't skip snagging a glass of wine and making the experience a success. Click here for the full wine menu.
Once you experience this whimsical location and all it has to offer, we have a feeling you'll be returning quite often. But that's perfectly fine since the specials are Monday through Friday and their regular menu is out of this world featuring Arugula Salad, Bison Empanadas, Duck Confit Spring Roll, Sautéed Colossal Crab Cake, Pan-Seared Duck Breast, and other various delicacies for Lunch, Dinner and Lite Fare.