"You may come in as a customer, but you'll leave as family. That's the way the Lasordas are," Smokey Lasorda says this sincerely, moments after he has slid into the booth beside me.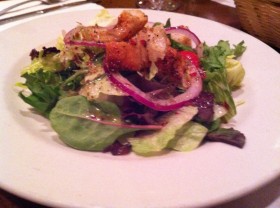 In the Exton area, the Lasorda family is synonymous with generous hospitality. Smokey is one of the brothers who operated Lasorda's Restaurant in the Marchwood Shopping Center for thirty-two years. In 2001, Smokey retired to play golf in Florida, but when his kids Michelle and Darby called him with an opportunity, he couldn't resist making a return.
The new Lasorda's Restaurant and Pizzeria is located in Fairfield Shopping Center along Route 100, just a bit south from the old one. While they do a lot of business in takeout pizza, the back dining room is the place to be for a cozy, authentic Italian dining experience. Each wall is lined with red booths. Long tables in the center allow larger parties of families and friends to gather and commune over lasagna, spaghetti, pizzas and more. On the Friday night we stopped by, the dining room was bustling. Kids twirled spaghetti with their forks and ate slices of pizza, adults dined on classic Italian entrees and refilled their glasses with BYOB wine.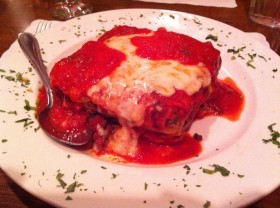 Michelle Lasorda Salamone is the chef, running the kitchen and occasionally stopping out to greet long-time customers who have become friends. Darby created the tomato sauce and oversees the making of pizza pies.
Smokey and his brother Morris meander from table-to-table, ensuring everyone is relaxed and having a good time. On Saturday nights, four of the five Lasorda brothers often dine together at the restaurant. The fifth Lasorda brother, Hall of Fame Los Angeles Dodgers Coach Tommy Lasorda, stops by when he is in town.
Before Smokey joined us, my date and I enjoyed a delicious Italian meal. I started with a house salad that included Michelle's own home-made vinaigrette dressing, which the waitress warned me "is a bit spicy." Sounded good to me. The hot pepper spices and the cool lettuce played nicely off each other, and the spice matched well with the bottle of Lasorda Wine's Chianti I brought with me.
The classic Italian menu offers options for everyone. Specialty pasta dishes include Lobster Ravioli, Gnocchi and Meatballs, and plenty more choices. Entrees include Chicken Parmesan, Stuffed Peppers or Veal Piccata. And there's pizza too!
I ordered the meat lasagna, which was beautiful, with nice chunks of ground beef and pork. The lasagna was layered with mozzarella and homemade tomato sauce and was as large as a brick. Delectable!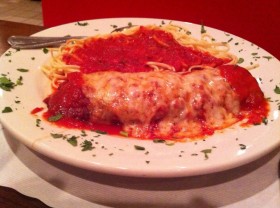 My date chose the Eggplant Rollatini, which had grilled eggplant rolled with ricotta cheese, parmesan, fresh basil and was topped with a marinara sauce. It came with a healthy serving of spaghetti. I was lucky enough to score a few bites, and it was an excellent choice.
Although dinner was definitely as filling as an Italian meal should be (my date had her leftovers wrapped up to go), we decided not to leave the fun, and split the cannoli.
It was while we were sipping our wine and waiting for the scrumptious dessert to arrive that Smokey stopped by. He slid in our booth, complimented us on our choice of wine, and we began to chat.
I asked Smokey how his brother Tommy's recovery was going. Tommy suffered a mild heart attack in early June. "He was (in New York) for the baseball draft, and the baseball commissioner and Joe Torre called the ambulance. Ninety percent blockage, they put a stent in and he's doing fine." Smokey said. "All us brothers went there, and someone took a picture of all the Lasorda brothers. I have the best brothers in the world."
Smokey assured us that, though his brother is a famous Dodger, "we are Phillies fans. Only when they play the Dodgers are we Dodger fans. Blood is thicker than water, but we are Phillies fans."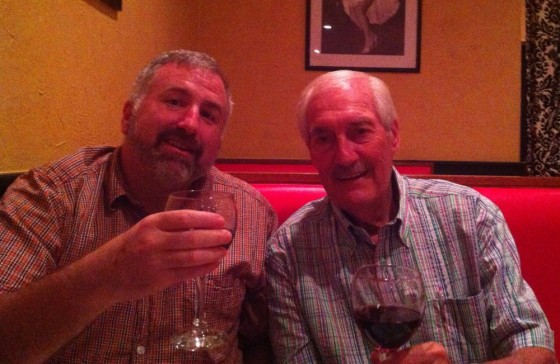 Within minutes, Smokey was helping us finish off the bottle of chianti and telling us stories about the celebrities who had stopped in to the old Lasorda's. "We were up the road for 32 years. We had more celebrities come to our restaurant. We had Frank Sinatra, Dean Martin, Angie Dickinson, Jilly Rizzo. Not only that but they came to my mother's house in Norristown. Frank Sinatra came to my mother's house for dinner."
Smokey explained how Tommy and Frank had become good friends in Los Angeles, and how that led to Frank visiting Mrs. Lasorda in Norristown.
"Frank Sinatra to me was the greatest," Smokey said. "I want to tell you a story." He taps my voice recorder. "Is this recording? My mother had just got out of the hospital–this is a very good story– and we took turns watching her and it was my turn for two days to watch her. When I was there, the phone rang and it was Frank Sinatra's secretary Barbara, and she said 'Smokey, Frank is coming to Philadelphia and he's coming to your mother's house for dinner.' And I said 'My God, Barbara that is great.' So I hung the phone up and I said to my mother, 'Mom, Frank Sinatra is coming to your house for dinner.' And you know what she said to me? 'I wish it was Perry Como!' That's a true story. And I said, 'Mom, don't tell Frank that!'"
We laughed for a bit, then Smokey said, "The Lasorda brothers, we lived a great life. I always say if God takes me tonight, I had a good life. I have no regrets. We were good to people and people were good to us. What more can you ask for?"
There's not much we could do but nod in agreement. Smokey said, "Let's have another drink." He picked up the bottle of chianti and poured a final round. "And I'm glad you brought Lasorda wine, because that's the best wine you can drink."
Lasorda's Restaurant and Pizzeria is located at 123 East Swedesford Road, in Fairfield's Shopping Center. They are open Sunday through Wednesday, from 11am to 9pm; and Thursday through Saturday, from 11am to 10pm. Lasorda's is a BYOB. For takeout or more information, call 484-872-8185.