Precious, a precocious pit bull, is the perfect example of grace under pressure. She wasn't always in a loving environment as she is now, but thanks to the Chester County SPCA (CCSPCA) and volunteer Debbie Klales, this faithful pet has a forever home.
Hubs and I met Precious at Pints for Pups, a Flying Dog Tap Takeover at The Drafting Room to benefit the CCSPCA. She welcomed thirsty beer lovers outside the bar entrance with a lick and a wag, and was in doggie heaven every time someone stopped to give her a pat on the head. Precious used her cuteness to bring attention to the info being offered up on the CCSPCA's good works.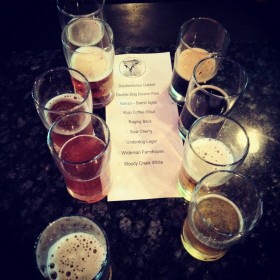 Armed with ways to help other pets find a good home, Hubs and I bellied up to the bar to fill our dog bowls with Flying Dog (no, The Drafting Room didn't make us drink out of dog bowls this time). After all, proceeds were going to the CCSPCA; we couldn't skimp.
Because we have such diverse beer preferences, Hubs and I are the ideal pair to taste test. I'm about the malt; he's about the hops, and we got to lap up plenty of both at this tasting. Bartender Heather Higgins was on-hand to provide intel, and answered all our questions about Flying Dog. Here's the rundown:
Disobedience Dubbel, 7.6 ABV: Not yer gramma's dubbel. By that I mean there was a fat, yeasty, bready maltiness with a hint of maple syrup at the end, but it wasn't too sweet. A Nina beer through and through, and my pick for the best of the day: Five out of Five Woofs.
Double Dog Double Pale, 11.5 ABV: Hellooooo hoppy acidic citrus with a subtle grapefruit burn and a surprise tad of sweetness. Were Hubs not the DD (note the ABV), this would have been his go-to.
Gonzo-Barrel Aged Imperial Porter, 9.5 ABV: Aged in Stranahan's Colorado Whiskey barrels, this smooth brew gave chocolate malt ball in the middle with a quick bite of bitterness at the end. A most unique bevy.
Kujo Coffee Stout, 8.9 ABV: Truth be told, this special offering was this close to my top pick. The coffee was pronounced, as was the malt, but what made it special was the wisp of vanilla. I could see how one might get "Cujo eyes" after a few of these…. As advertised, its bark was just as big as its bite.
Raging Bitch Belgian-Style IPA, 8.3 ABV: I tasted more hops than did Hubs, but I liked it, I really liked it. There was a slight sweetness that mellowed the hops, but what really tickled my taste buds was the wee bit of pine-rosemary at the finish.
Sour Cherry, 4.6 ABV: Hubs and I are both fans of krieks, so this mild tart offering was a bit too mellow for us. However, a brief survey of fellow CCSPCA enthusiasts gave this beer two paws up.
Underdog Atlantic Lager, 4.7 ABV: Ahhhh, a refreshing summer libation with an upfront sweetness, a crisp lemon acidity and a mild finish. Easy drinking beer alert!
Wildeman Farmhouse IPA, 7.5 ABV: This brought the funk and was reminiscent of a weiss even though it's made with saison yeast. The bit o'honey in the middle confirmed its traditional pedigree.
Woody Creek Belgian White, 4.8 ABV: Another good, solid, fresh summer selection that distinguished itself with a distinct coriander flair. Different, but a really good different.
If you missed these nine nummy ways to help the CCSPCA, take heart: you can still give darling pets like Precious hope by taking part in the Victory BrewBQ on Saturday, Aug. 4, noon to 4 pm at Paradise Farm Camps in Downingtown. It's a two-category BBQ cook-off to see which team can make the best chicken and ribs according to the judges. This year's attendees will also be able to taste and vote on the People's Pork award for the restaurant vendors. Add a Victory Beer garden, live music, a kids play area and free admission, and you've already got a winner. Learn more here.