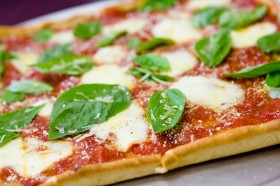 If you've been to Phoenixville, you know if this town has anything, we have pizza. Yes, we have our fair share of Chinese takeout, hair salons and pharmacies, but pizza places top em' all!
Driving down Bridge Street, you'll spot Franco Ristorante, Xpress Pizza and now, the newest addition on the block, Vecchia Wood Napoletana. Or, exit Bridge Street and swing by Palermo's Pizza off Nutt Road (located in the same shopping center as Giant) and work your way up Route 113. You'll see Flippin' Pizza tucked behind the Village of Eland, followed by Bella Napoli near Wendy's and end with Bravo Pizza in the Kimberton Shoppes. That's right – three pizza spots just a little over a mile apart from each other! It's like that all over. And seriously, we haven't scraped the surface yet.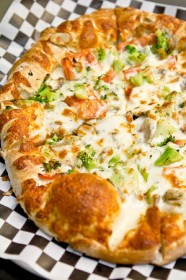 You can't count on two hands how many pizza spots there are in town, but I've estimated around fifteen (I'm sure just reading this, you're doing so yourself).  And with that many spots, how can you possibly try them all? Know which is the best spot? Who has the greatest deals? As for taste, everyone has their personal preference about the sauce, crust,  or the amount of cheese. Everyone likes their pie a certain way.
And yes, I'm aware – every pizza place is different and each spot has their own, unique style. It's pretty tough to compare something like Vecchia Wood Napoletana to TD Alfredo's, but the topic is pizza, folks.
No matter what style, shape or size, I don't plan to leave anyone behind!
That's right!  I intend to give every pizza joint in Phoenixville a chance. And hopefully, by doing so, you'll discover a new spot that's just a slight turn off your work route. Or grab delivery from someone new this weekend. Whatever it may be, pizza fans, you'll appreciate reading Phoenixville by the Slice, a column dedicated to one thing in one area only.
Buon Appetito!
Photographs credited to Nina Lea Photography.