You probably know by now, pizza joints are a dime a dozen in Phoenixville and when you're trying to write a column about the best pizza Phoenixville has to offer, it's no easy feat.
The simplest way to review each location is breaking it down into four categories: atmosphere, menu, taste and experience. With all that in mind, where do I begin? Plain and simple. We start off by visiting the newest spot on the block, Vecchia Wood Fired Pizzeria Napoletana, located right off of Bridge Street.
Atmosphere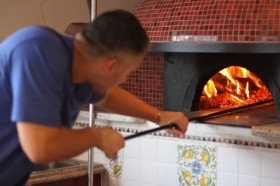 Vecchia offers a very nice, welcoming atmosphere. The art on the wall is meant to mimic that of Naples, reminding you of the old country. The décor on the shelves and walls shows Vecchia's appreciation of both their heritage and religion.
And let's not forget, when you step through their front door, you're greeted by a massive wood-burning oven. Just gazing into that fiery furnace, you know what you're ordering off the menu is the real deal. In fact, the oven was made out of stone from the ashes of Mount Vesuvius. Yes, this is going to be a very unique experience for sure.
Menu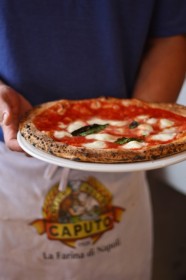 Authenticity is a huge deal for Frank and his staff at Vecchia Pizzeria. The ingredients for these pies are straight from the source and imported right from Naples. There was actually one point in time I felt like I was eating the pies wrong! Is there an authentic style approach to eating these Neapolitan style slices? The truth is, yes. There is mention of a Naples episode of No Reservations with Anthony Bourdain. Owner Frank Nattle insisted I watch it on YouTube, but hey, feel free to slice them up and dive right in!
One of the biggest things that is going to separate Vecchia from every spot in town—at least in my opinion—is the amount of menu items. Frank keeps it simple for his customers and has nailed the menu down to four pies with four prices (toppings additional). Menu options include the Regina Margherita ($15), Margherita Pizza($9), Marinara Pizza ($7) and White Pizza ($8). All the pizzas made with Caputo flour, which again, is a staple of Naples.
Taste
I tried two very different varieties at Vecchia, the Regina and the White pizza. I figured those were two distinct styles to sample and makes for a fair assumption of what separates Vecchia from the rest in town.
What you're getting from Vecchia is direct and to the point. For starters, these pies are all the same size. And like Naples, they range from 260-270 grams. These portions give you just the right amount to leave Vecchia Pizzeria neither hungry nor full. You will be quite satisfied. I would recommend purchasing a pie for yourself, but feel free to share!
The Regina Margherita is probably their most authentic style of pie and unlike anything you're going to order in town. It's made with mozzarella di bufala (cheese made from the milk of water buffalo), basil and an abundance of sauce. The pies themselves were well done with the right amount of crisp. I'm a huge lover of cheese and tomato sauce, so I recommend trying each of these styles. Whatever you decide to order, everything arrives to your table right out of the oven!
Overall Experience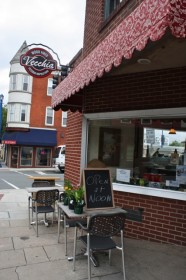 What Vecchias offers is fresh and unique. What you're getting may be different and not what you're accustomed to in Phoenixville, but that's part of the Napoli experience.
Bottom line: for the amount of money, the quality of ingredients and the time it takes to get it to your table, you're in for a treat. Being that Vecchia is BYOB, grab a bottle of wine and check out Vecchia the next time you're craving a slice. Enjoy!
Photographs credited to Amy Strauss. More scenes from our "Phoenixville by the Slice" visit to Vecchia are available by clicking here.