The West Chester Beer Ladies (WCBL), the brainchild of mom and craft beer lover Colleen Perrin, celebrated their 2nd anniversary on August 2nd. Coincidentally, it was also the 2nd annual IPA Day (#IPADay) so the WCBL decided to plan an IPA tap take over with local restaurant Liberty Union Bar & Grill to commemorate both events.
IPA Day was founded in 2011 by two craft beer lovers and social media personalities, Ashley Routson and Ryan Ross.  IPA or India Pale Ale is one of the most popular styles of beer so it made a perfect platform to unify the craft beer community via social media.  #IPADay is not marketed nor sponsored by any large corporations or macro breweries, so it is a unique opportunity to unite smaller craft breweries, bloggers, purveyors and consumers of craft brew while spreading the good word about all the diverse beer being produced.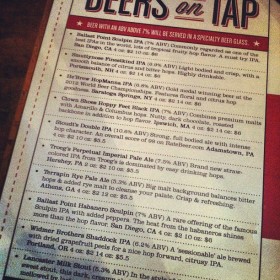 Liberty Union Bar & Grill, located at 325 Simpson Drive in Chester Springs, put together an amazingly hop infused tap list including Ballast Point Habanero Sculpin IPA, Ballast Point Sculpin IPA, Smuttynose FinestKind IPA, Clown Shoes Hoppy Feet Black IPA, He'Brew Hop Manna IPA, Widmer Shaddock IPA, Stoudt's Double IPA, as well as Stoudt's American Pale Ale and Founder's Red's Rye Pale Ale. Additionally, for the first time, they offered 4 oz. sized tasting glass portions of each beer for $2 so that we could enjoy a sample of many of the offerings.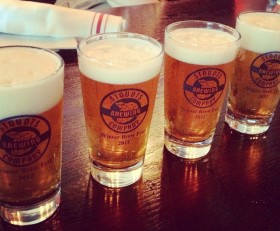 My #IPADay tasting adventure had several highlights. I enjoyed the Ballast Point Habanero Sculpin for its intriguingly spicy hot pepper taste that was increased by the hot wings that I paired with it. The 4 oz. tasting was perfect in size as it would be hard to drink a full pint. I highly recommend at least trying it if you come across it in the future. This is not your average beer!
I also loved the He'Brew Hop Manna IPA.  This beer had a citrusy nose and more of a malty upfront taste than most IPAs, but finished with a smack of bitter.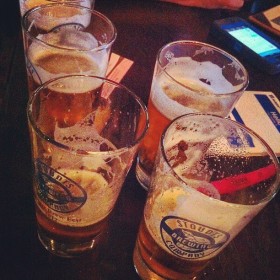 My absolute favorite of the night was the Clown Shoes Hoppy Feet Black IPA. This beer is dark in color and tastes of cocoa, coffee and toast. Don't let the black color fool you, ladies. I know that many won't drink "dark beers" because they are "too heavy," but this beer is smooth and sweet with a bitter finish. Give it a try!
#IPADay's purpose is to get the world, at least on social media, talking about craft beer. Initial data purports that over 11,000 twitter users (8,000 unique) utilized the #IPADay hashtag with a total amount of followers of over 5 million. This does not take into account other social media sites like Facebook, Pintrest, Untappd, Google+, Flickr, and Instagram. Additionally, the Philadelphia area showed up big time as one of the highest traffic areas, so yay US! (For really cool beer/statistic geek data, click here.) I would say that #IPADay was very successful in spreading the craft beer love.
The WCBL enjoyed celebrating their 2nd anniversary and have many more exciting events coming up, including brewing their very own Oktoberfest-style beer on August 28th with Boxcar Brewing Company (located in West Chester).
For more information about the West Chester Beer Ladies and upcoming events, click here. Photos credited to Nina Cazille and Nina Malone.