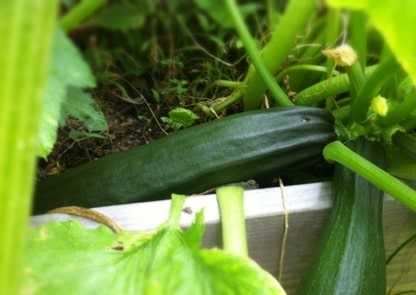 Our backyard garden has a mind of its own. The first year it was overflowing with tomatoes. Last year, gargantuan neck pumpkins took over the yard (and everyone got pumpkin butter for the holidays). And this year, we have a zucchini jungle.
With one ginormous zucchini after another growing, we reaped a seemingly impossible harvest with pride from our potager. And I wasn't about to back down from this zucchini challenge. I baked. I sautéed. I puréed. I grilled. I fried. And now I'm sharing the top eight zucchini recipes that we ate:
Zucchini and Fresh Ginger Veloute: Culinary legend Patricia Wells' Salad as a Meal writes, "This magical five-ingredient soup is delicious hot or cold, and can be assembled in a matter of minutes." I seriously could eat this velvety, light soup for breakfast, lunch and dinner. (Ok, I did!)
Zucchini Cheddar Bread: Rethink your breads — they all don't have to be sweet. Cheddar cheese, scallions, low-fat buttermilk and grated zucchini were key ingredients, and I used a mini muffin pan instead of a loaf pan. Perfect for with salad, soup or as a snack, for you and your little ones.
Spicy Sausage Stuffed Zucchini Boats: This is one of the classics – 'boats' of fresh zucchini hollowed out and stuffed with a sausage mixture, topped with cheese, and baked until melty. Try this classic version or lighten-up with turkey sausage—bet you can't taste the difference with this skinny recipe.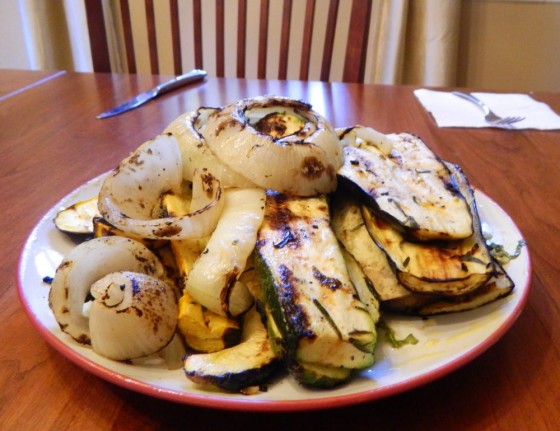 Herb-Marinated Grilled Zucchini: This is an obvious one, right? This is my go-to grilled vegetable recipe and it's a hit every time. That is, until I served grilled zucchini for dinner five nights in a row; then it was time to try something new.
Chocolate Chip Zucchini Bread: One whole zucchini gets shredded into this bread, which also calls for a cup of applesauce, and only a smidge of oil, resulting in an ultra-moist, low-fat treat. Unsweetened cocoa and chocolate chips make this dessert-worthy, too.
Zucchini Parmesan Cakes: Since I'm a veggie pancake novice, I needed a simple recipe and one that was pan-fried vs. deep-fried. This fool-proof recipe adds a parmesan crust for a nice dimension of flavor.
Zucchini Bake with Feta and Thyme: A great side-dish, squash is sautéed with fresh herbs, turned into a casserole dish, and topped with a mixture of eggs, feta, sour cream and parmesan cheese and baked.
Squash Blossom Pizza: If you've got a bevy of zucchini in your garden, you've also got beautiful—and delicious—blossoms ripe for harvesting. Search online and you'll find a multitude of recipes for squash blossoms, but my favorite recent inspirations is from Jules Thin Crust Pizza in Wayne. Do it yourself at home, by layering ricotta, garlic, mozzarella cheese with zucchini ribbons and blossoms on a flatbread or pizza crust and bake until ooey-gooey.