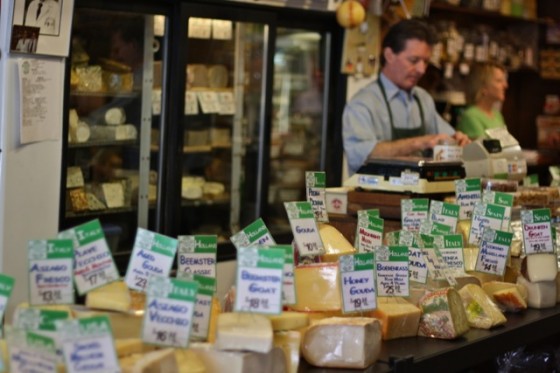 Situated in the historic downtown district of Germantown Avenue, you'll spy a Chestnut Hill institution—and the word "institution" is used for good reason. For the past fifty years, the Chestnut Hill Cheese Shop has made tireless efforts to source high-quality cheese from around the world, and more importantly, they strive to teach customers about each and every item in stock on a daily basis.

Say, for example, you step inside the classic store and spy the Moliterno Black Truffle from Italy on their vibrant cheese table—the centerpiece for the fully-equipped cheese shop that showcases their best cheeses in the house. The truffles within the sheep's milk cheese have intrigued you, especially since (as you later find out) they are only visible as "veins," appearing comparable to a bleu. Your interest has caught the attention of co-owner Daniel Weiss, and he's reaching for the cheese, to share with you a slice. Once cut, the dark truffled paste oozes out of the crevices, and with one taste—you're hooked on the earthy Italian.
Other customers are in-house too, and lucky for them, they're also getting a taste of the just-opened Moliterno. Most of the time, as Daniel reveals, similar situations like this introduce shoppers to a new cheese, and many become instant fans, snagging their share to take home. If he hadn't broadened the tasting experience with other shoppers, they may have never come to understand the beauty of this particular truffled cheese. As you should know, cheese is like beer — always better with friends.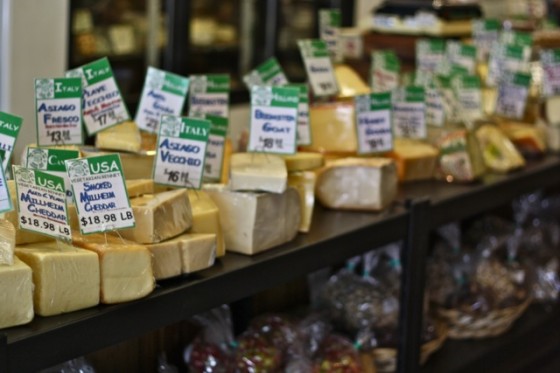 But, back to the cheese table — the focal point of this Chestnut Hill business. Each night, Daniel and his business partner of 30 years, John Ingersoll, handle each variety of their cheese (over 200 in house!) with the utmost care, rewrapping them and removing them from the cheese table for overnight storage. In the early morning, the full selection is re-wrapped again and a bulk of them are delicately replaced on the cheese table, re-introducing them inside the store's space. Aged Cheddars become cozy for the day aside Goat's Milk Goudas, Pecorino Romanos reside next to Aged Provolone.
"My father taught me a lot of positive things about running a business," shared Daniel, who first began working in the cheese shop as a teen, when it was his family's, partially his father's. Eventually, Daniel and his father co-owned the business, with the ownership progression moving to Daniel being the sole owner, and then as of 1982, long-time cheesemonger John became a partner with Daniel.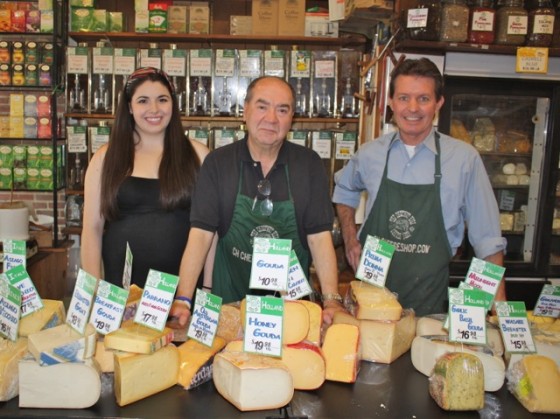 The operating duo (pictured above, with Weiss' daughter) are the kind of gentlemen you want slicing and shaving your cheese — friendly and knowledgeable, respectful of the product and incredibly helpful in pinpointing what you're looking for.
"We have so many different flavors here to match up to your tastes," said Daniel. "And, we don't have a whole case of pre-cut cheeses here—good quality remains king."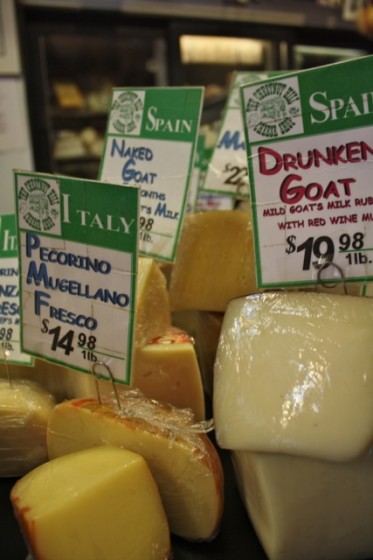 They'll slice your cheese on the spot, which means you can be certain that your prime window of cheese-snacking opportunity is right when you leave the shop with your new purchase. Not sure what you're looking for or on the hunt to build-your-own cheese board? "We'll help you decide on a selection of cheeses," he said. "We'll start mild and work our way up through the progression to sharp and strong."
With a desire to spend all day haunting around Daniel and John's incredible cheese world and continuously picking their well-educated brains, I requested Daniel share his top cheese picks with me.
"The Twin Oaks Canadian Cheddar is a huge hit and so good—even kids come in and eat it. It's sharp and aged for two years—sometimes it is even sold-out."
The Fromage d'Affinois is another crowd-pleaser, he shared, with a luxuriously creamy, whipped mouthfeel and a buttery and tangy taste.
Another leading choice he suggested is the Prima Donna (my favorite!), a mild, approachable cow's milk cheese crafted in the style of a Dutch Gouda. Daniel's daughter, Jacqueline Weiss—who was also on-site for my visit, shared that the cheese is excellent on egg sandwiches.
But, while their entire shop hosted some of the finest cheeses in the entire Philadelphia area, one in particular left me in a trance—that conquest being the French raw milk cheese Epoisses. The beaut of a wrinkled rind cheese comes from a region of France known to some as the "king" of the cheese world, and is produced by being washed with water and brandy three times a week for six weeks. "Few raw milk cheeses are this soft, as they have to be aged 60 days to come to the United States," Daniel explained. Delightfully stinky and deliciously nutty — if you ever spy this rare raw, grab it!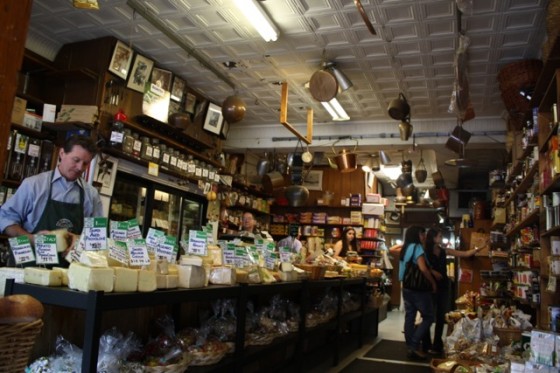 And, while our cheese tasting journey has just begun (continue it by speeding over to the shop for yourself), creamy, milky pleasures aren't the only thing Chestnut Hill Cheese Shop carries. They are a one-stop-shop for all things gourmet, small-batch and one-of-a-kind, including everything from chocolates to pickled products (Brooklyn Brine goods are on the shelves), to cured meats and olive oils, imported caviar and preserves, rare teas and even, a house-blend of coffee (Chestnut Hill Blend, a mashing of French Roast and Mocha java).
"It's is so nice being here [in Chestnut Hill, for so many years]. People will come in and say they knew my father, and some customers will come in and say they came here since they were kids," concluded Daniel.
Find Chestnut Hill Cheese Shop at 8509 Germantown Avenue or online at chcheeseshop.com.