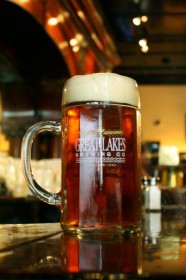 In anticipation of Oktoberfest season and our attendance at many of the upcoming fall beer festivals unfolding through the next few weekends (talking Kennett Brewfest and King of Prussia Beerfest Royale, folks), we decided to book several beer-savvy individuals on our Friday radio show, WCHE 1520's Eat, Drink & Meet Mary.
Honestly, if we're not drinking craft beers, we might as well be talking about them, and there's nobody better to chat with than Mark Weinmann, the Greater Philadelphia Area Sales Manager for Great Lakes Brewing Co. Mark has been a key driving force in making sure the Cleveland brewery's fine-tuned, well-balanced beers are alive and well in the Philly market, and we found our interview with him to be pure beer geekery, as we picked his brain on Great Lakes, the local craft beer scene, and seasonal beers.
Click here to listen in to the full interview, or dive into the full Q & A below.
Amy Strauss: Being that I am a big fan of Edmund Fitzgerald and also, that I love the eco-conscious approach that Great Lakes does for their beers. Can you give me a little background about what the Cleveland, Ohio-based brewery is all about?
Mark Weinmann: Great Lakes started back in 1988 with two brothers Pat and Dan Conway and when they decided to make the beer they said they wanted to have a triple bottom-line philosophy and really give back to the community and the environment. People laughed at them saying, "why not just make great beer?" But they wanted to be a part of something bigger and that role model now has just grown and it's something every business should just strive to do.
We are only in 14 states, it took us a three years to get to Philadelphia.
AS: And, we are very excited about Great Lakes being so accessible in Philadelphia.
MW: As of Monday [Sept. 24], we are opening up the entire area of Lehigh Valley, Reading, Bethlehem, Lancaster and Easton, so starting then, people will be able to get our beer up north. Starting next year, we are opening up the entire area of northern New Jersey.
AS: I know your entrance into the Philadelphia market has been fairly recent — how recent are we talking?
MW: We came in July of 2010, so it's been about 3 years and it has been tremendous. The great thing about Philadelphia is it is a knowledgeable, educated town about beer, so we just came in — I mean, you knew the Edmund Fritzgerald, that's the most award-winning porter in America, but still a lot of people on the East Coast didn't know about us yet — and, we've been on fire, watching beautiful, organic growth.
AS: We're just so happy to have Great Lakes easily-available in the Philadelphia scene, and speaking of the latest beers to hit the local beer scene — since it's fall and seasonals are hitting the market — what makes Great Lakes' Pumpkin Ale stand out?
MW: What's really unique about that is it is a public-exclusive, a limited-release, and we're trying to make more. I never understand how so many pumpkin beers can come out so early — the pumpkins aren't even fully grown and juiced yet. And, we use everything fresh, we don't pasteurize, we keg and bottle — it's all about quality ingredients and keeping them simple. That's why when the pumpkin comes out, it is just so natural and beautiful.
AS: That's what I love — when you drink pumpkin beer, you don't want to get all the artificial flavors or, you don't want to get overly-spiced. I need to try some myself. In speaking about trying some Great Lakes, I know that GLBC will be representing at two upcoming and local beer festivals, including the Kennett Brewfest [coming Sept. 29] and the King of Prussia Beerfest Royale [coming Oct. 6]. What will you be pouring?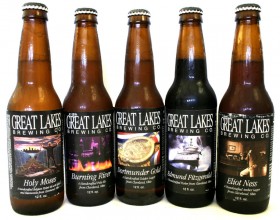 MW: One of the unique things we do is that we make two of the country's best lagers. [For the Kennett Brewfest] we're going to be bringing out our Dortmunder Gold, German-style from 1863 — just a beautiful golden lager and our Eliot Ness, our Vienna/Marzen-style. At the Newton, we recently brought out our new beer that we debuted this summer, the Wright Pils, which is named after the Wright Brothers who are from Dayton, Ohio.
AS: Plenty of opportunities to get your fill of Great Lakes Brewing Co., aye?
MW: Absolutely, we're are around! We are finally getting enough beer and producing enough beer, expanding the brewery and we are able to have our 25th anniversary next year, so we are working on a bunch of special beers and some exciting collaborations with breweries who also started in 1988.
AS: Can you give me a "sneak peek" of who you may be working with?
MW: I cannot confirm this, but we are in talks with Deschutes Brewery. They are a fantastic American brewery and I am sure we'd come up with something absolutely delicious and lovely.
AS: Being that you work for Great Lakes, and considering all the beers that GLBC has produced and regularly produces, what would you say is your ultimate #1 release?
MW: The Christmas Ale. It's our #1 selling beer overall and it's became a cult beer. We sell 31,000 barrels of it in 7 weeks, and why it is so unique is that we use — well, I think this year we spent over $4,000 on 55 gallon drums of pure honey — and we don't over-spice it, a little cinnamon, a little ginger. Most Christmas beers are spicy and not appealing — ours is not.
AS: Sounds refreshing — especially since many Christmas beers are overly boozy and blow your palate.
MW: Absolutely. If anyone wants to see a fun lil' video, visit YouTube and search "Great Lakes Christmas Ale Song Parody" and it is hilarious. But, know we're shipping the Christmas Ale soon — so, get ready!
AS: Circling back to our Philadelphia drinking ground which we all know and love, since you are a beer guy and do work for a brewery, can you share with us two of your favorite beer bars or restaurants that you are a faithful supporter of?
MW: One out in the 'burbs is TJ's Everyday in Paoli. The food is phenomenal, they really do it right there. One of the places that started with [Great Lakes] at a very early age and has grown with us. That's a great one. Another is the Baggataway Tavern, out there in Conshohocken.
You can have great beer anywhere, but there is not a lot of places that respect and love beer, and educate their staff and the people — and, when you hit those places, it is such a great connection and to see it happen is great. That's why we want to be at places like TJ's and the Baggataway.
If you want to learn more about Great Lakes Brewing Company, visit them online at GreatLakesBrewing.com. Don't miss Mark and his GLBC gang at the upcoming Kennett Brewfest unfolding this weekend, Sept. 29. More details on that fest are available at kennettbrewfest.com.