When my husband and I first started dating, we loved to try new restaurants and create unique dining experiences. As we both learned to love craft beer, our dining out adventures soon turned to finding restaurants with good food as well as a decent craft beer list. And then we had kids. That was just over 13 years ago, but I was determined to not be relegated to chain restaurants, fast food and pizza take-out forever.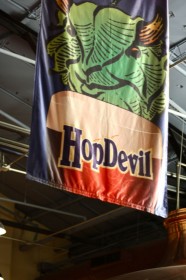 When my twin boys were turning 6 months old, my husband and I decided that we had to return to our dining/craft beer adventures. We also decided that we wanted our children to learn at an early age the how-to's of dining out, so including them was a must for us. We invited a large group of friends to meet us at Victory Brewing Company.  We figured there was strength in numbers and this proved to be true as many a friend held a baby or two throughout that meal. We were able to eat and try some brews and everyone seemed to have a good time.  We have continued frequent meals at Victory and our sons still say it is one of their favorite restaurants.  A must for us at Victory is to order 1 or 2 of their soft pretzels the minute we sit down at the table. This way something arrives quickly for the kids to munch on which alleviates those hunger pangs that might cause melt-downs. The kids love the house-brewed root beer, too. Additionally, we try and get seated near the small game room, which can keep our kids occupied for quite awhile under our watchful eyes. Then my husband and I can enjoy a beer and some conversation which almost makes it feel like a date.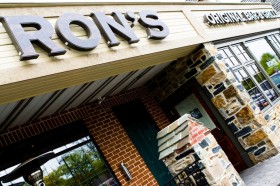 Our family also frequents Ron's Original Bar & Grill for the great food menu and the stellar beer selections. Ron's knows how to please their smallest diners by always having a Coloring Page contest available for the kids. My daughter, who is 7 years old, looks forward to submitting her entry to try and win a Ron's T-shirt every time we go. She hasn't won yet, but she is going to keep trying! They also put a paper covering and crayons on every table. The kids (and adults too) can draw all over the table while waiting for food to arrive. We have had some rousing games of tic-tac-toe and hangman at Ron's to pass the time and create memories.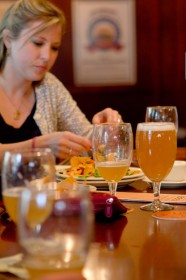 Another fun establishment for dining out with the kids is Iron Hill Brewery and Restaurant. Our family recently had a meal at the West Chester location and it is quickly becoming a new favorite. We were most impressed by the non-typical kid's meal selections. Instead of just chicken fingers and fries or spaghetti, the children have options like meatloaf, fish and chips, baked/grilled chicken breast, black bean burgers and broiled shrimp. Sides include fruit salad, steamed veggies, garden salad and other healthy fair. We try and encourage our children to try new options and expand their palates, so this is the perfect place for them to explore.
Our family tries to frequent independently-owned local restaurants because usually the waits are less, the food is better, and most chains tend to have a beer list that includes only selections like Bud, Miller and Coors from macro-breweries.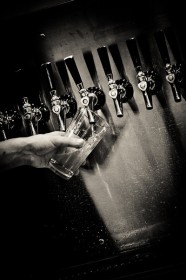 Our one exception is Uno's Chicago Grill in Exton. Uno's has obtained some serious craft brew credibility lately with a large list of frequently changing quality taps. They also offer growler fills for takeout and beer samplers while dining in. In fact on Thursdays, you can get a sampler of 4 different 4.5 oz. beers for just $5. Additionally,  kids dine for free on Tuesday nights. They frequently post their updated beer menu on their Facebook page. My daughter really enjoys Uno's because she can make her own pizza. They bring you your dough and then the child can decorate it with sauce, cheese and pepperoni. It is fun and delicious!
My husband and I still enjoy our date nights out without the kids. But, we are happy that we have found a way to dine out at places where the whole family can enjoy the experience.
Find below four Hot Tips that will help you successfully pair dining out with kids and craft beer.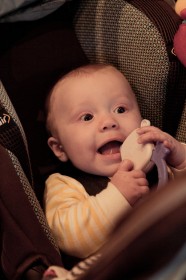 Hot Tip #1:
When dining with small children, go at an off-time for the restaurant. You won't have to wait for a table; you will get quick and attentive service from servers who aren't overwhelmed, and you will be less likely to disturb other diners. Our favorite time is 3 to 4 p.m. arrival so we can be finished before the dinner rush even approaches.
Hot Tip #2:
Know the menu before you go. Most establishments have their basic menu online. Know what the kids want to order in advance and order something the minute you are seated.
Hot Tip #3:
Bring supplies! We keep a travel bag in the car at all times that has scrap paper, crayons, markers, and stickers so that if we have an impromptu meal out, we are prepared. Remember that the best activity is to have conversations with your children. The earlier you teach your children to be good dining partners, the more fun you can have as a family.
Hot Tip #4:
Start taking your kids out as early as possible. If you wait for a time for them to "behave," they will never learn how to become good diners. Don't expect perfect nights out at first. It takes work, but the sooner you put in the effort, the sooner you will reap the benefits of having great little foodies who enjoy a good meal out.
Photographs credited to Amy Strauss, Nina Lea Photography & Ronna Dewey.