It started with the fried chicken. Once a week on a Friday night, Cafette featured their signature crispy skinned chicken, a salty, savory dish that through the years — twenty to be exact — developed a fiend-worthy following. But, just because the offering would sell out before every Friday night's end, they never extended their offering — it was meant for a Friday night, and that was the official plan.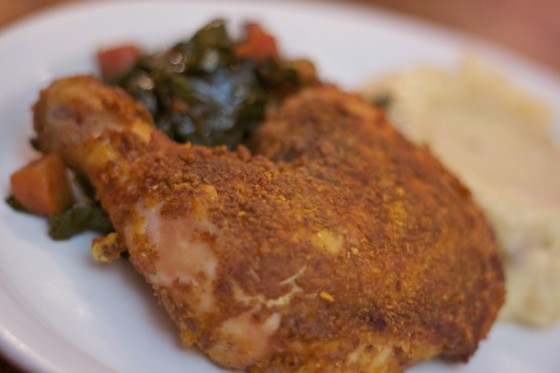 So, when Cafette established their twenty year anniversary menu for last month, you'd expect the notorious seasoned bird to gracefully find its place in the lineup — you know, only on the Friday nights that the month-long, celebratory menu was offered.
Since I am one to release a few chicken-fried hallelujahs when they are due, I decided an appropriate crunch time to visit Cafette was during their twenty year anniversary month. It was a most important sojourn to see what all the fresh-out-of-the-hot-skillet fuss was about, and to gobble up what is said to be the area's holy grail of flaky crust, flavorful meat, and overall, comfort food bliss!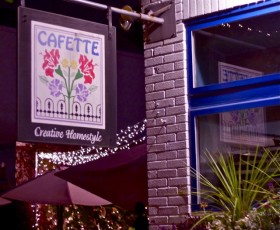 I had never dined at Cafette prior to my recent visit. While a bold, shameful statement, it's an important one to discuss, considering the second you step inside the hidden gem of a restaurant, situated on the residential block of Ardleigh Street, you feel as though family has invited you to dinner. Interestingly enough, Cafette is a family affair, owned by Chestnut Hill native Jan Wilson, with her sister Ginger and her daughters, Heidi and Bonnie, assisting in running the day-to-day operations.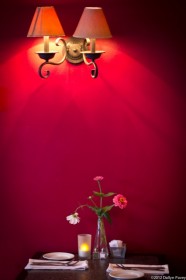 The official first year of Jan's charming, comfort food bistro was 1992, when it was introduced as just a one-room space (singularly as just the room that features the kitchen today) serving creative, in-season eats. Prior to unveiling her inventive spot in the 'Hill, Jan also took her entrepreneurship spirit through spins in owning a women's clothing shop and the city's first punk rock venue, Hot Club. Through the last twenty years though, her treasured restaurant progressed, extending its space into one that now houses three dining rooms and an enchanting outdoor patio, each warmly dressed in golds, deep reds and black plaid-wrapped booths.
As a "thank you" to patrons for their support through the decades, she tailored her recent anniversary menu to feature her dishes that touted celebrity status over the years, and for me, such a tasting allowed me to devour an abridged version of the history of Cafette and what it does best. Of course, the aforementioned fried chicken (you didn't think I was going to Cafette and not having the chicken, right?) was to be part of my ravenous roster, in addition to vegetable lasagna — a soul-warming dish that Jan's niece Bonnie reveals is a big part of her family, a recipe that she grew up with and holds on a pedestal like many of the restaurant's regulars.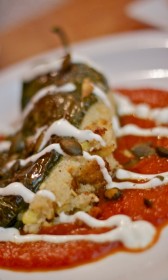 But, before I dived deep into the classic crown jewels of the eye-catching, local eatery, Bonnie introduced me to one of Cafette's newest award-winners, the seared-and-stuffed poblano pepper pumped with creamy jack cheese grits and accented with smoky tomato sauce. The darling dish, steeped in innovation and undeniably addicting, was one of Bela Durst's, the new chef who just jump-started at Cafette last month. As a fine addition to the kitchen, his creative skill sets match the previous success of the space, while still allowing room for him to weave in his own menu highlights — which have already received rave reviews.
It seems as though for many, the comfort food feast begins with a heaping dish of Caesar salad, one above-par from its industry standard as the well-balanced housemade dressing is creamier, richer, and smoother than most. Although I attempted to weasel my way into its secret, Bonnie didn't budge — same went for the pinch-perfect chicken rub that had the ability to penetrate through the skin, to provide succulent flavor all the way to the bone. Just like any Southern fried chicken's crust should be, the skin didn't shatter and while it was crunchy, the entree was incredibly moist aside its perfectly-paired, traditional partners — mashed potatoes with gravy and collard greens.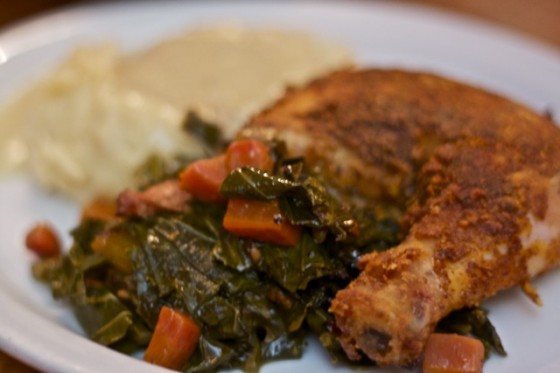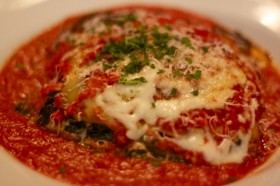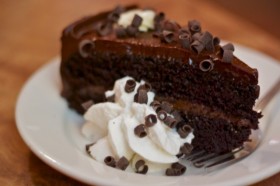 My Friday night visit was complete with a plate-size serving of the soul-warming, veggie-pumped lasagna, which proved to be the perfect choice for the cool-weathered fall night. Slice of the from-scratch, mocha mousse-frosted chocolate cake for the road? How could one say no? For the record: it was the ultimate, decadent treat to devour when returning home from my dinner date.
Cafette's signature recipes are time-tested and time-honored, fail-safe and fiend-worthy. Measuring up to being one of finest culinary stops in Chestnut Hill, even if it's situated off the main drag, I'm now certain that it is always a pleasure to be a guest at this Ardleigh Street hub. Whether you are itching for a new haunt that feels "just like home" or I have convinced you to become a Cafette fried chicken follower, you are due for a dining visit in the near future. And, it is fair to say I will be the one seated next to you chomping down on some crispy bird's skin.
Find Cafette at 8136 Ardleigh Street in Philadelphia (Chestnut Hill), or online at cafette.com. In addition to serving a first-rate dinner from Wednesday – Sunday through fall and winter (Wed., Thurs., Sun., 5–9 pm; Fri.–Sat., 5–9:30pm), they also serve lunch from Wednesday – Sunday (11am—3pm), and brunch on Saturday (9am–3pm) and Sunday (9am–2:30pm).