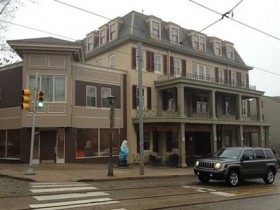 There's been much chatter filling the streets of Chestnut Hill as frequent visitors and residents want to know what is happening at the Chestnut Hill Hotel. Talk of an Italian-styled bistro Bardea was prominent at one point, but it's Michael Klein from Philly.com who managed to crack the code on this transforming Germantown Avenue space.
According to their report, Melting Pot, which resided in the Chestnut Hill Hotel for several years, will soon become Paris Bistro, a '30s-style French bistro with a bar upstairs and a jazz cafe downstairs. Al Paris of Heirloom, Benjamin Bynum and Robert Bynum make up the powerhouse team behind this coming-soon dining option. Paris, already a well-known figure in Chestnut Hill, will be taking the chef position at this fresh spot and suggests it will be open in late spring.
In addition, Jonathan's Best, a gourmet shop that's been at the side of the hotel since the 1980s, is closing at the end of March. The Bynums will also be taking the initiative on that spot by putting in Green Soul, a second location for their health-food cafe which primarily resides on Ogontz Avenue.
Stay tuned for more details on this evolving restaurant and visit Philly.com for the full story.
Photo by Michael Klein.