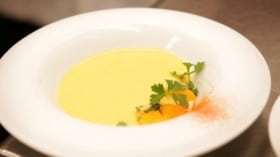 In Dish Trip's recent culinary adventure, they set off to explore Chicago, Illinois. During the tasty trek, it was their honor to attend a special sold-out dinner at Sprout, which was reserved for Southwest Airlines Rapid Reward Card Members and allowed them the opportunity to sample cuisine from Top Chef Runner Up, Dale Levitski. After that wonderful experience there were many other sensational stops that forced the Dish Trippers to view Chicago with a whole new culinary eye.
Be sure to catch Amy Strauss's recap of their delicious Sprout dinner (begins below) and stay tuned to DishTrip.com for her full lowdown on their food-filled travels.
In just under 90 minutes, the most recent Rapid Rewards Cardmember Dinner with Southwest, Chase and Visa Signature sold out. The attractive offer — one extended to cardmembers only, via email — invited food and wine lovers alike to the enchanting, 50-seat space of Chicago's Sprout  for a one-of-a-kind dining experience packed with individuals from across the state and even the country…..READ MORE and WATCH THE VIDEO.