Originally created for The Daily Local.
Beth Wilson-Parentice started her beverage career by working as a Starbucks barista in Connecticut. Eventually, she helped to open a new coffee house that also housed a cocktail bar and became a star mixologist there. Beth grew tired of the long nights and weekend work, so she took her expertise from hiring great teams of people at the coffee house to a new career path in human resources. All the while, though, she continued to wow friends with her savvy mixing of ingredients to create delicious drinks. When the recession hit, Beth lost her HR job. Not knowing what to do next in her career, her friends reminded her of her superior mixology and entertaining skills, and SIPP Sparkling Organics was born.
Wilson-Parentice began SIPP as a website where she housed her recipes and ideas for entertaining organically. Pretty soon, she was getting hired by large corporations who wanted her to create organic cocktails at their green events. As Beth served her fresh concoctions, guests would ask her how they could recreate the drinks at home or even better, could they just purchase the mixers somewhere. That got Beth to thinking that she needed to start bottling her beverages.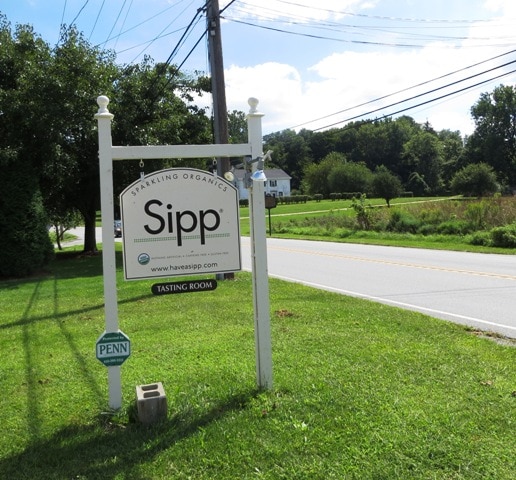 As a newcomer to the beverage industry, Wilson-Parentice had a lot of learning to do. Through sheer hard work and determination and perhaps a bit of being in the right place at the right time, Beth got SIPP off the ground. Today, SIPP can be found in over 400 stores and restaurants in 14 states and is poised to continue growing.
Beth had been running her expanding business out of her Chester Springs, PA home, with bottling of the beverage happening in Oregon. The facility that currently produces her sparkling beverages utilizes not only organic ingredients, but also equipment that only produces organic products. SIPP finally received the go-ahead to place the USDA organic certification on the label with a switch to this production facility. It became clear to her that dedicated work space was needed for her growing business and staff. She came up with the idea to open a workspace that would also function as a place to gather. Thus, the SIPP Tasting Room is now open on Conestoga Road in Chester Springs.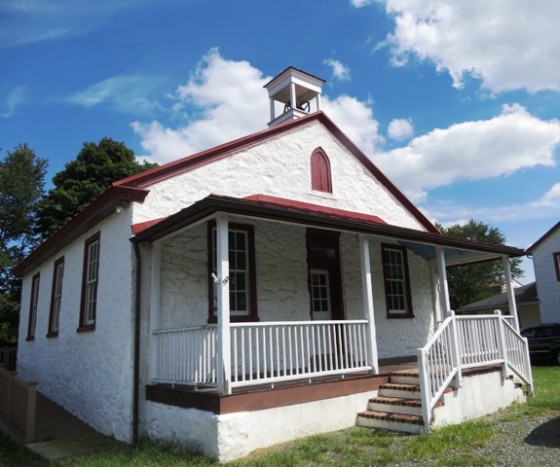 I recently stopped by to try some of the beverages, and found Beth has created an upscale, modern space that is sophisticated and polished, yet homey and comfortable. A beautiful bar waits for visitors who would like to sip a SIPP. Currently there are three flavors available, each one clocking in at only 100 calories per 12 ounce bottle. All SIPP products use only fresh organic ingredients and contain no artificial flavors or preservatives and are sweetened with agave nectar. As I sat at the comfortable bar, Beth poured me a flight so I could taste of each flavor and shared some ideas for cocktails and food pairings.
Ginger Blossom
Spicy ginger, tart lime infused with vanilla and a touch of agave nectar. This is SIPP's original flavor and was my favorite of the three I tried. Although the ginger spiciness is pronounced, it is balanced out by the vanilla and lime. Beth told me to use the ginger blossom in place of traditional ginger ale in mixed drinks. Cocktails using the ginger blossom pair well with tuna, sushi, mussels, cucumber salad, shrimp cocktail, smoked salmon and pad thai.
Ginger Blossom Gimlet
Ingredients:
2 oz. organic cucumber vodka
4-5 leaves of fresh basil
1 oz. fresh lime juice
1 oz. SIPP Ginger Blossom
Method:
In  a shaker, muddle basil slightly with a muddling stick.
Add ice, vodka and lime juice.
Shake vigorously for 10 seconds.
Strain into a chilled martini glass, top with SIPP and garnish with a thin cucumber wheel.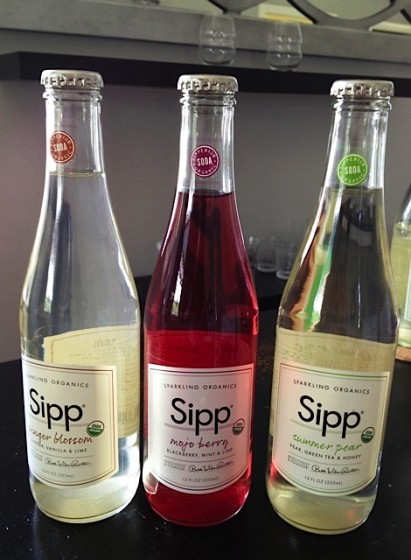 Mojo Berry
Juicy blackberry, tart lime infused with mint and a touch of agave nectar. The mojo berry is fruity and sweet, but the mint and lime mellow it so that it isn't cloying. Beth suggests pairing it with stronger-flavored menu items such as jerk chicken, grilled flank steak​, jambalaya​, tacos, beef stew, chili and even chocolate.
Posmo Berry Sparkler
Ingredients:
2 oz. organic vodka
4 oz. organic pomegranate juice
1 oz. fresh lime juice
1/2 oz. organic agave nectar
1 oz. SIPP Mojo Berry
Method:
In a shaker add ice, vodka, pomegranate and lime juice with agave nectar.
Shake vigorously for 10 seconds.
Strain into a highball glass with ice, top with SIPP and garnish with a thin lime wheel.
Summer Pear
Crisp pear, green tea-infused with organic honey and a touch of agave nectar. The summer pear has pronounced sweetness from the pear and honey, but the layering of the subtle green tea brings the drink into balance. Foods that go well with summer pear include brie, creamy Stilton, fruits, roasted chicken, hummus, arugula and apple pie.
Honey Pear-tini
Ingredients:
2 oz. organic pear vodka
1 1/2 oz. St. Germain Elderflower Liqueur
Top off with SIPP Honey Pear
Edible flower garnish (optional)
Method:
In a shaker, add ice, vodka and St. Germain.
Shake vigorously for 10 seconds.
Strain into a chilled martini glass, top with SIPP and garnish with edible flower.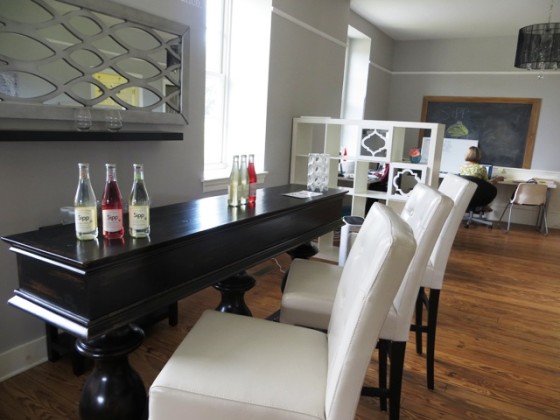 As I sat chatting with Beth, I couldn't help but notice an inscription in white lettering over the bar:
Strength, Inspiration, Passion, Perseverance.
Beth explained that the name SIPP started as a cute spelling for her company name, but that over the years has come to represent so much more. Beth Parentice began her career through her passion of entertaining and creating organic cocktails in her kitchen and never gave up on following her dreams. She has had to have strength (S) inspiration (I), passion (P) and perseverance (P) in order to grow her business into the success it is today. So swing by the SIPP Tasting Room and try some delicious organic sparkling beverages. As Beth likes to say, "The journey of a thousand miles begins with a single SIPP."
The Tasting Room is currently open from 10 a.m.- 6 p.m. on Tuesdays and Thursdays, but call ahead for verification.
Buy SIPP Sparkling Organics locally at Wyebrook Farm, Ludwig's Village Market, and Kimberton Whole Foods. See the SIPP website (haveasipp.com) for more local places to find SIPP.
Find SIPP Sparkling Organics Tasting Room at 1725 Conestoga Road, Chester Springs; (866) 222-4735; haveasipp.com.
Photo credits: Ronna Dewey.