A vibrant food community gathers around the table in one of its own chef's homes, celebrating their town, their products and, most importantly, their undiscovered potential.
On a small-town corner of Gettysburg's Hanover Street, a residential strip walkable from the town square splashed with Federal-style buildings, there is an unassuming brick twin house with the light on.
Once inside the private residence, a red-lipsticked blonde bombshell—who we learned to be Ilsa Chesnick—greeted our Town Dish crew with monumental hospitality. She guided us to an impeccably plated table where we felt like kids at a birthday party, spying each of our names scribbled on a placeholder as a vinyl record spun in the background. Soon we realized that not just any dinner awaited us.
Our retreat for the evening was the rustic-chic home of Josh Fidler, the bearded, self-educated executive chef of the town's reputable The Garryowen Irish Pub. For one night only, he'll invite wide-eyed food lovers into his house for a private pop-up dinner.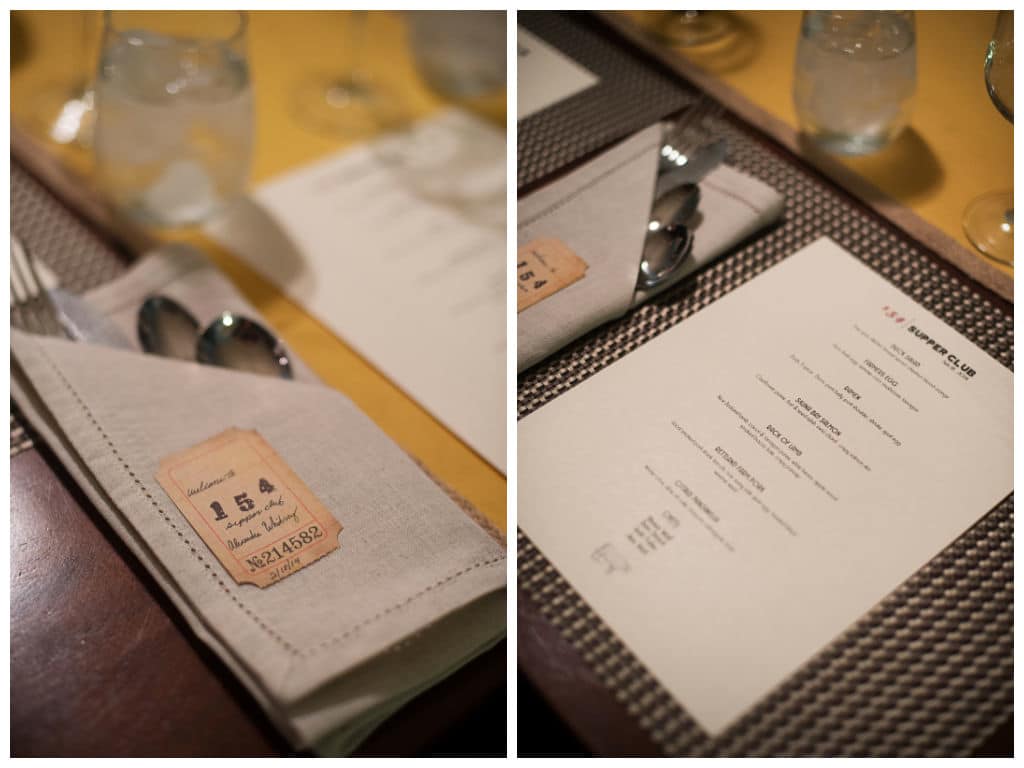 There's no catch, just a fresh concept. The purpose of his exclusive, elusive dinners (filed under the 154 Supper Club), are to highlight and elevate the richness and potential of Gettysburg's very own—somewhat undiscovered—food scene. Through recurring feasts unfolding on select Sundays and Tuesdays (his nights off), he rotates a cast of local food characters through his kitchen. He's hoping to strengthen their communal bonds and elevate exposure for the Adams County edible community.
So we Chester County implants—Mary Bigham (a Gettysburg native!), Angela Corrado and myself, traveled to Adams County to tap into the concept and uncover its culinary mystery. As corks began to pop and dynamic hors d'oeuvres danced around the sea-blue dining room, we became acquainted with that night's four-chef lineup. As we gazed into the kitchen through the in-house picture window, we spied their looks of determination, each remarkably focused on what he or she was unfolding that night. Representing the world-class Wyndham Gettysburg Hotel was Sam Strock, a young twenty-something chef with sharp skill-sets backed by an innovative agenda. The night's other guest chefs, husband-and-wife Shaun and Jess Wolf, arrived on the scene with equally impressive resumes: Shaun, a notable chef on opening crews of Philadelphia's Zahav and Osteria, and Jess, a pastry chef who recently completed a San Francisco stint under Top Chef Masters' winner Chris Cosentino.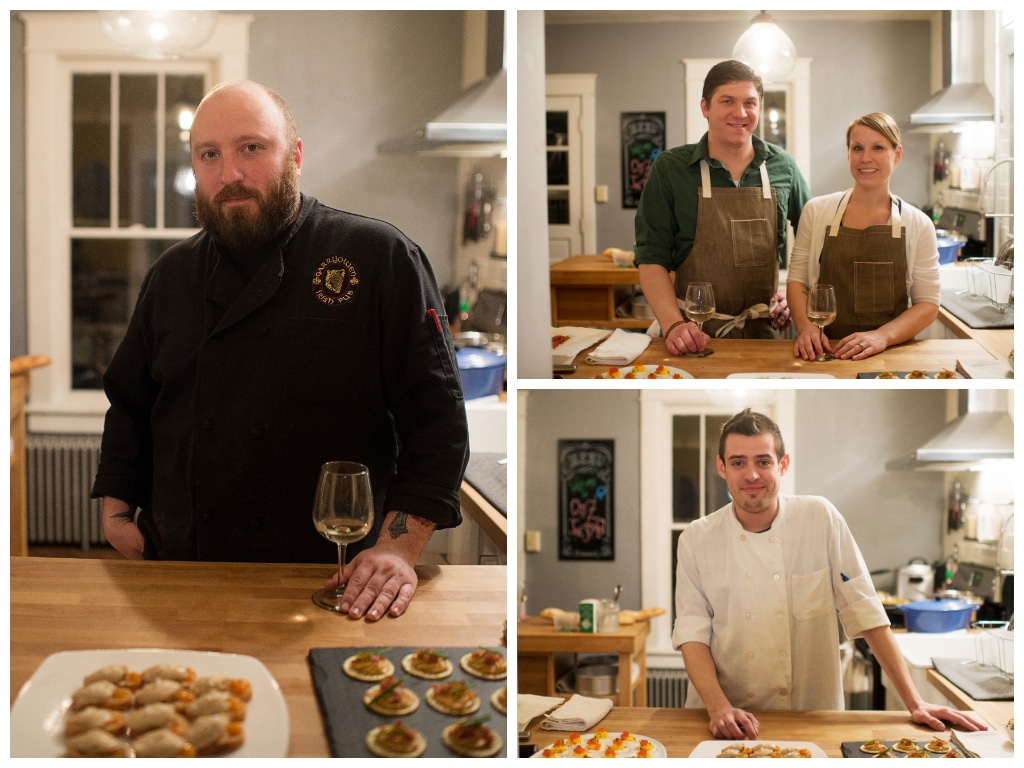 But, what made this not-so-secret supper club even better? Our seats were scattered among notable, hyper-local producers. To my far left sat the white-bearded Beau Ramsburg of Rettland Farm, a well-spoken herder with admirable working-man hands. Beau's farm was just three and a half miles away from the house and possessed what Josh proclaimed as the "best pork he's ever had."
My tablemate to my left was one of The Garryowen's owners, Joanne McCready, an Irish expat with voluminous ruby curls and an incredible quick-wit. Forever grateful for Josh running her and co-owner, Kevin McCready's (also in attendance), kitchen, she filled us in on the trials and tribulations of owning a Gettysburg pub for seven years, a pub which includes the East Coast's largest whisky collection (needless to say we're intrigued!). Adam Redding, cider maker of Gettysburg's Good Intent Cidery, slid into his seat with semi-dry, full-juice hard ciders in hand, sharing samples and educating palates as we eagerly progressed into the supper. And then, there was comedic Jeremiah Vingsness of Orrtanna's Twin Springs Fruit Farm, a prosperous produce hub located dead-center in Adams County's fruit belt. Although not present, Jonathan Patrono of Hauser Estate Winery sent us slinging chardonnay and Jack's Hard Cider to share with our table guests.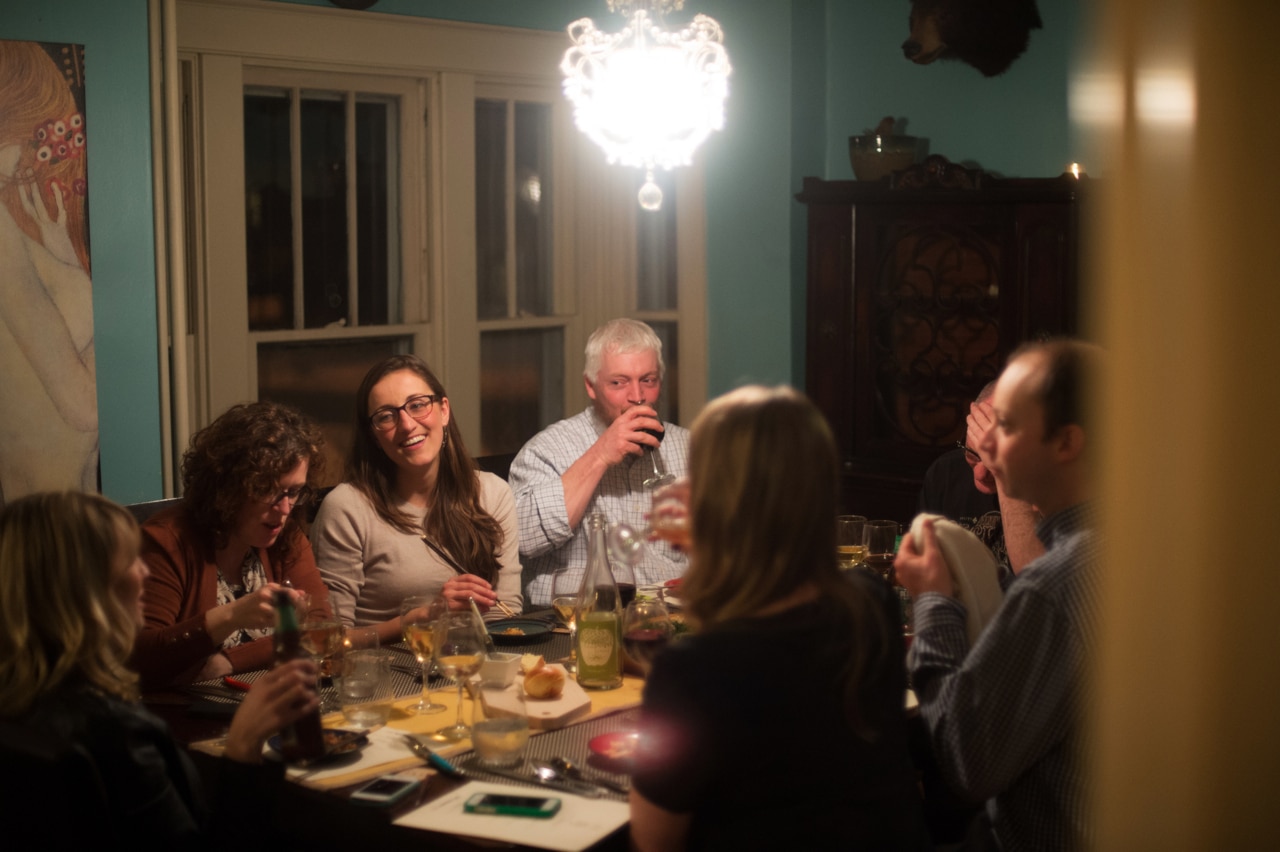 As we prepared for an intriguing feast, Shaun strode into the dining room bearing the first of decadent small plates—duck three ways. His rich and savory dish, constructed on a pastry foundation, layered dreamy foie gras marinated in cider underneath rillettes, Brussels-sprout shavings and a mustard-fruit and duck-fat finish. If the caliber of the first course was any indication of what was to come, we were already rearing to book our reservation for yet another venture.
Shaun's second staple was a tribute to warmer months, elevating his dish with a personal batch of summer corn sourced from his grandmother's garden. The corn, tossed with mushroom and tarragon, acted as a nest for a perfect Italian tempura-battered, soft-boiled egg. Once the properly prepared egg was sliced, the bright-yellow yolk oozed onto the salad, acting as its dressing.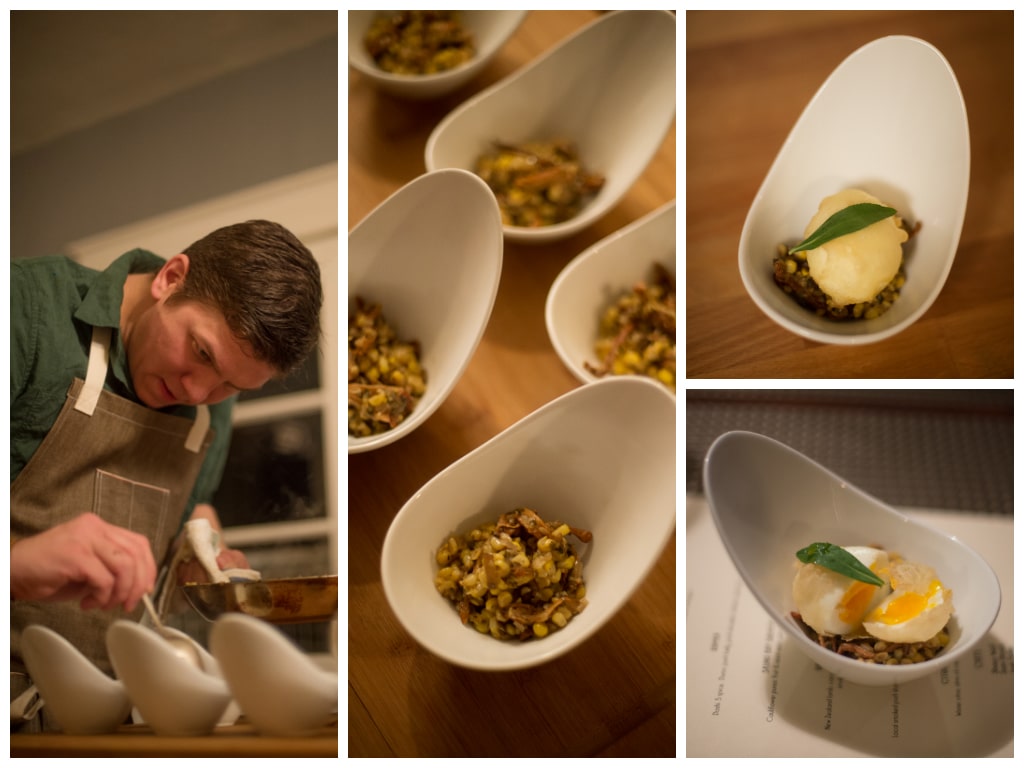 Soon Sam took the stage, taking us on a Vietnamese getaway with his labor of love, a play on shoyu ramen executed with a 63-degree quail egg. The soul-warming pool, as enriched with dashi, was crowned with melt-in-your-mouth pork belly and shoulder, kicking our meat-loving hearts into overdrive.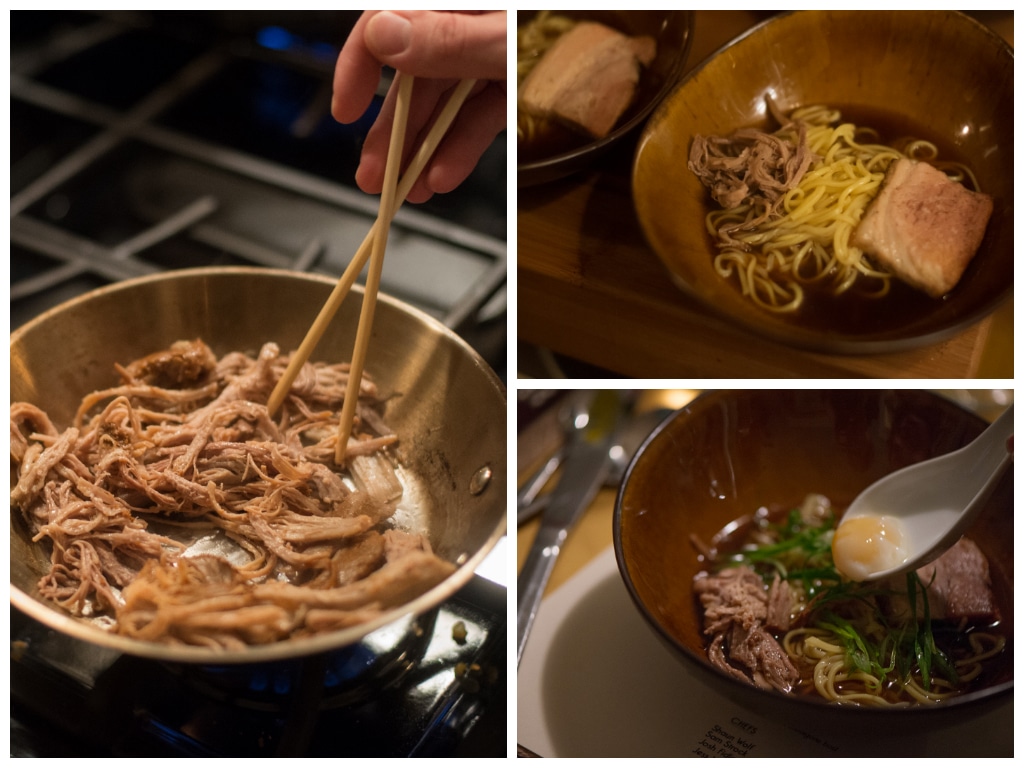 In that moment, we may as well have had a cigarette, but breaking brioche was a worthy counteraction. The bread, home-prepared and served with tupelo honey and cayenne butter, was a PA Dutch girl's ultimate intermezzo.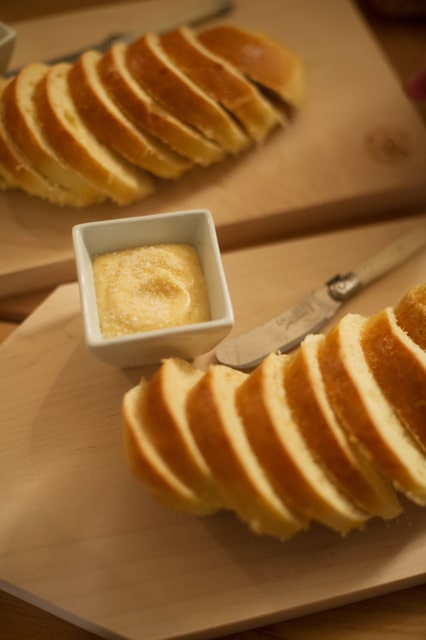 Although none of us revealed any concerns, Beau offered some wisdom for the evening. "Food solves a lot of problems," he laughed, as we gobbled up the remaining carbs speckled across the tabletop. Our only concern, perhaps, was where we may put the remaining four courses.
Sam reappeared with a classically styled, mild follow-up that illustrated his diverse cooking prowess. His tender hunk of Skuna Bay salmon laid positioned on an airy cloud of chevre-punched cauliflower puree and was complemented by a fresh fruit, toasted seed and Swiss chard salad that when united offered a textural playground of a dish—crispy salmon skin included.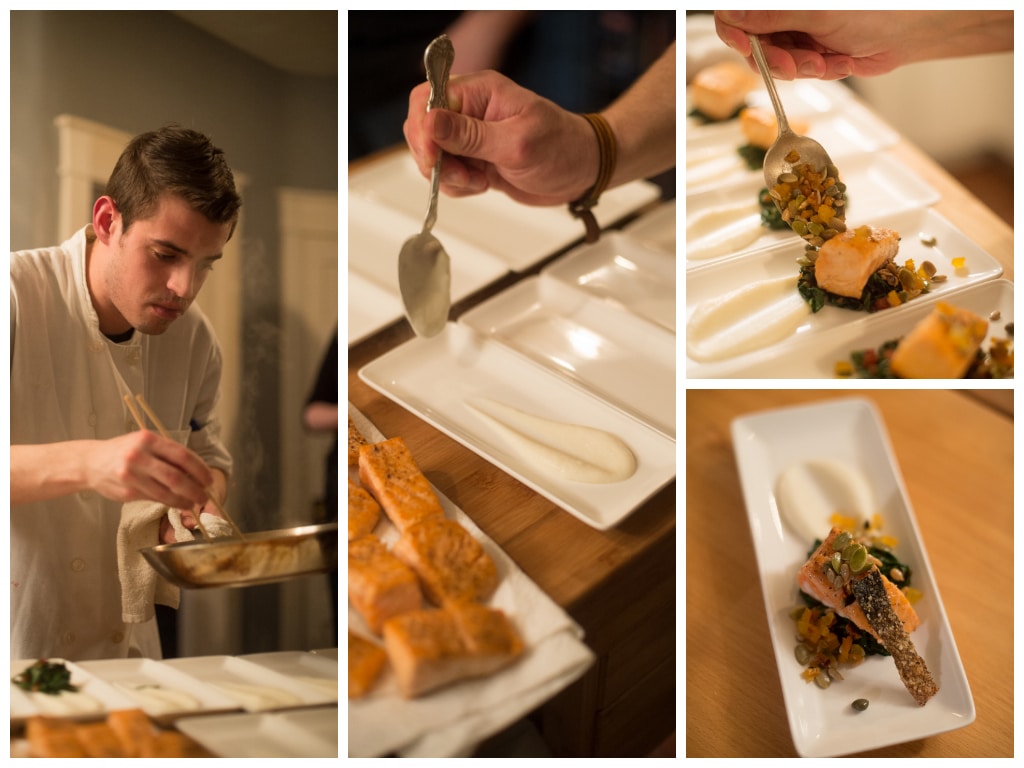 As food and community continued to converge, we taste-tested the man-of-the-house's first dish—succulent slices of mid-rare New Zealand lamb. The wholesome serving possessed a rollercoaster of flavors, from the nebula of sharp tarragon-kicked carrot puree to a white-bean and applewood-bacon medley and high-piled crunchy parsnips. In this dish, Josh created my forever "last meal."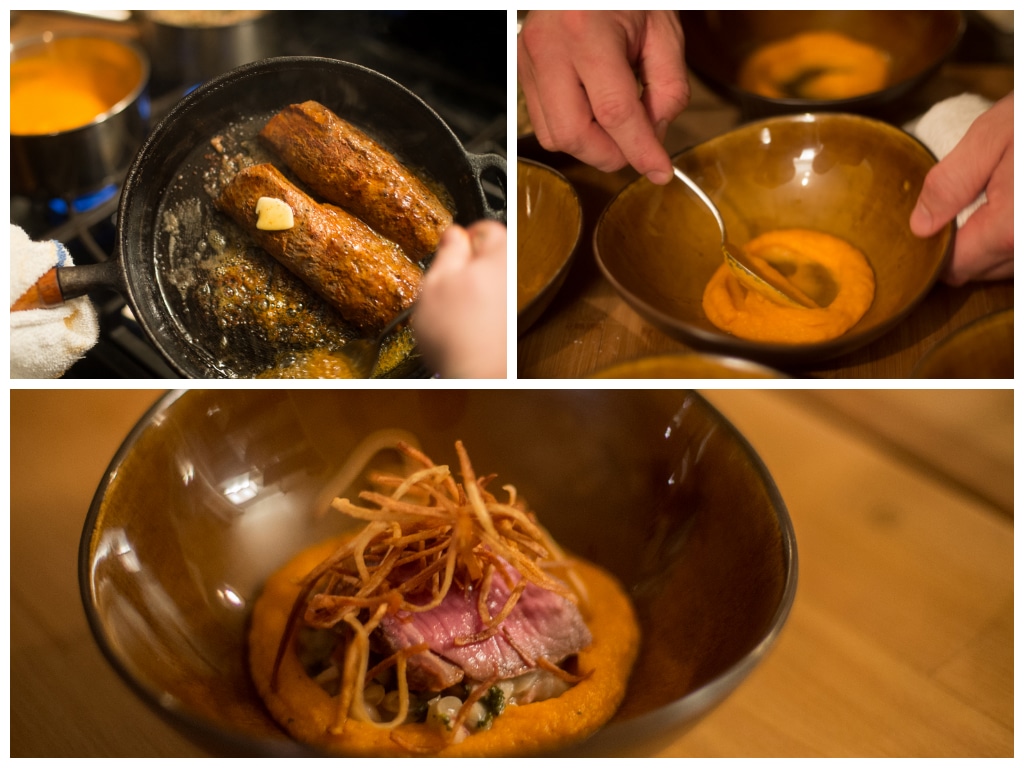 As the night advanced, we were also offered glimpses into the lives of a pig farmer and a cider maker, picking the local brains to uncover what it was like to call Gettysburg home.
"Seeing your name on the menu is like seeing your name on a marque," Beau giddily revealed, when explaining his farm's relationship with city-based restaurants.
And, at that moment, Josh presented Beau's very own pork; an uncommonly tender shank smoked for four hours. The signaturemeat was presented atop of fistful of sticky rice and house Garryowen kimchi, finished with a sunny side-up quail egg and toasted black sesame seeds. The dish was powerful and profound, and matched the distinguished quality of the pork itself.
Because every meal needs a sweet ending, one sugary bite with Jess' touch and we found room for dessert. Her captivating citrus panzanella with basil, tucked underneath a pillowy moscato-spiked zabaione, was beautifully constructed both in balance and composition.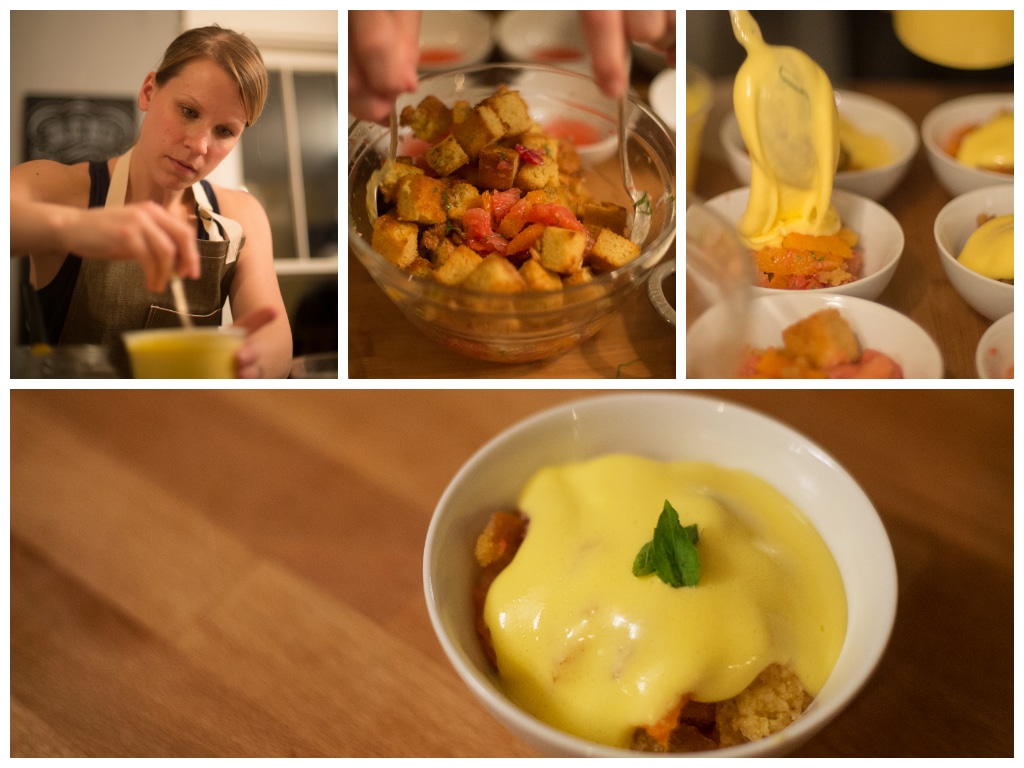 "Gettysburg is poised for its own food scene," said Beau, as we all made excuses not to go home. "It's not trying to be Philadelphia or Washington D.C. But, I've said for years that Gettysburg had all the ingredients to develop a thriving food culture, making it a destination for something other than Battlefield tourism. I think that culture had its watershed moment here [tonight]."
On that note, the McCreadys broke open a bottle of Paddy's Irish Whisky for a round (or two) of toasts. When I discover a vibrant community just waiting to be devoured, I need to pull out a chair and stay awhile.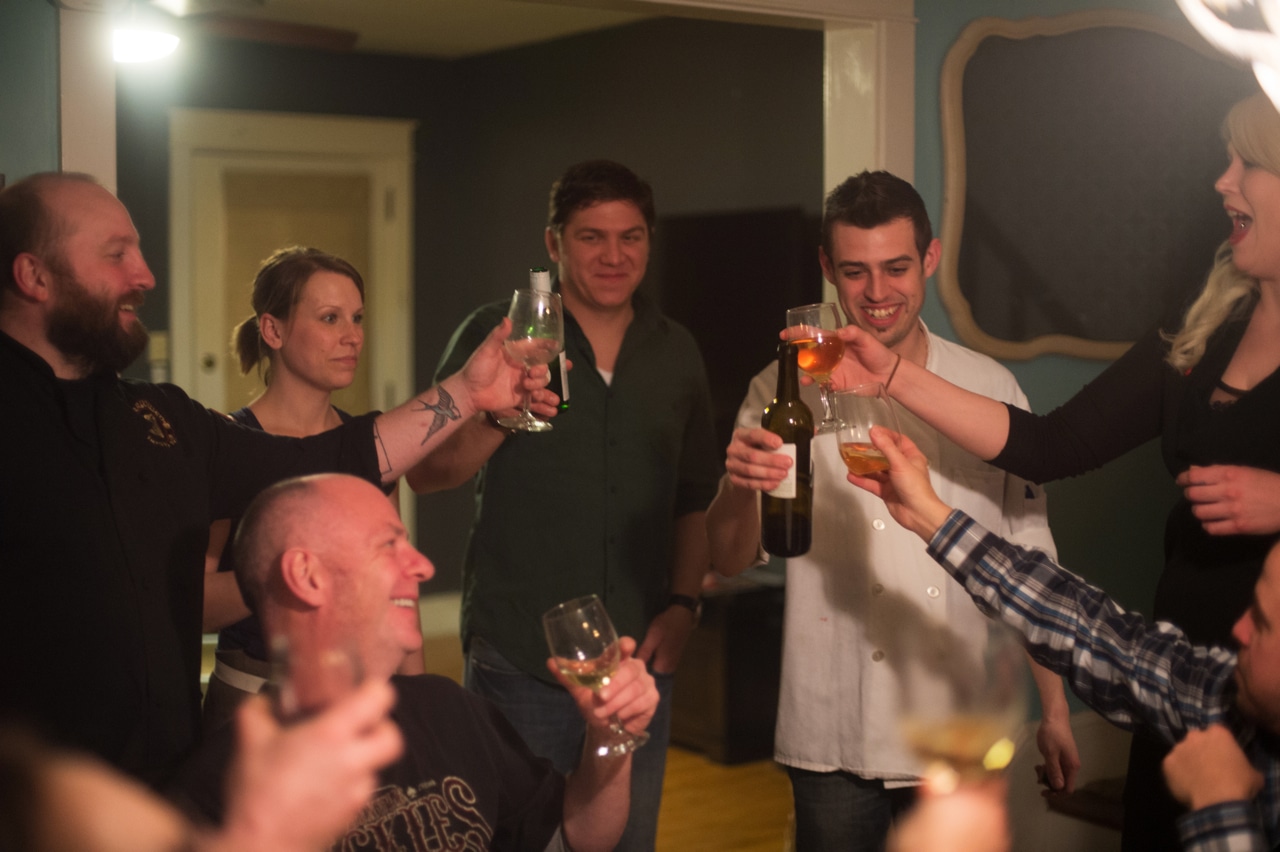 To attend your own 154 Supper Club, e-mail your reservations to 154supperclub@gmail.com. Supper clubs are available Sundays and Tuesdays only, with guest chefs and menus changing per each reservation (party of 8 required). Donations of $90 per person are recommended. Dinner is BYOB. In the meantime, be sure to follow 154 Supper Club on Facebook.
Stay tuned to The Town Dish for even more stories on Gettysburg's edible community.
Disclaimer: For research of the 154 Supper Club, the reviewer received a complimentary meal.