Meal-planning is always a great way to start a week in order to prevent last minute grocery shopping or last minute take-out meals from restaurants. Budget-conscious folks resort to planning in order to prevent extra costs.
As I discovered local markets in Exton, I found that many of the markets had better priced ingredients for meals than in chain grocery stores. Herbs, spices, veggies, and even dairy were more reasonably priced. Exotic spices or ethnic ingredients were more accessible too! I decided to make three meals with low-cost ingredients found at local markets without breaking the budget. Discover the first of my international cooking series below.
Featured Meal: Aloo Gobi

When preparing for an Indian meal, it can be intimidating looking at all the listed spices in a recipe. My first Indian dish to prepare was a vegetarian dish popular in the northern region of India called aloo gobi. The recipe requires cauliflower and potatoes while the rest of the recipe is focused on spices.
The Himalayan Indian Market in Exton is definitely a great place to check out since it is small and not too overwhelming. As I walked down the spices aisle, I noticed that they came in smaller quantities, but also in bulk, which in the end is an investment because the spices will last for the next Indian recipe. The grocery section was small but all the ingredients were readily available.
I left spending a total $14 for all my ingredients for a meal that would serve two people. Even though I normally serve this dish with brown rice, the original recipe calls for naan bread or other Indian bread. Each dish comes out to $7-8 a plate and leaves your house smelling like a restaurant.
Recipe: Aloo Gobi
adapted from ECurry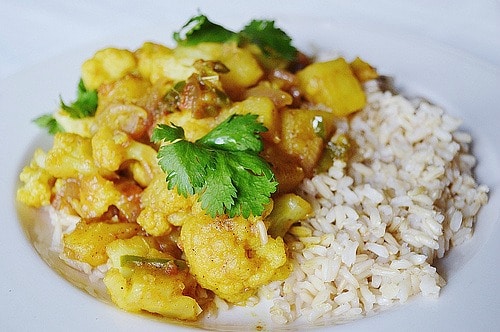 Ingredients: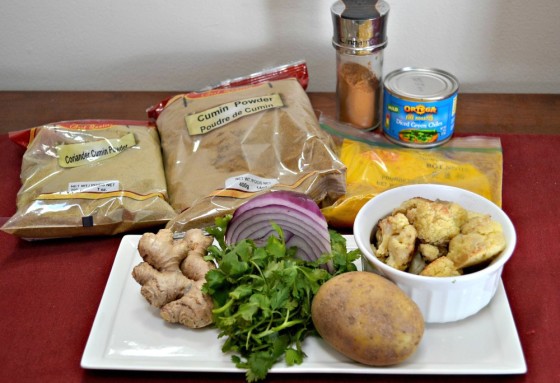 1 head cauliflower
3 medium potatoes, peeled and cubed
1 small red onion, halved and sliced thin into half moons
3″ fresh ginger, peeled, grated, made into a paste
3 green hot peppers, sliced, and somewhat seeded
1 large tomato, chopped
1 teaspoon turmeric, divided
1/2 teaspoon cinnamon
1/2 teaspoon ground cloves
1/4 teaspoon cardamon
1 teaspoon coriander powder
1/4 teaspoon ground cumin
1 teaspoon salt, divided
fresh cilantro, chopped for garnish
1/2 cup olive oil, divided
Method:
Wash and drain the cauliflower florets. Sprinkle 1/2 teaspoon turmeric and salt with 1/2 teaspoon on the florets and give them a good shake so the turmeric and salt roughly coats them. Wash and drain the potatoes. Sprinkle 1/2 teaspoon turmeric and add 1/2 teaspoon of salt on them and give them a good shake so the turmeric and salt roughly coats them.
Take 1/8 cup of oil and pour into a thick-bottomed pan. Heat the oil and saute the cauliflower florets in the oil at medium heat for about 5 to 7 minutes, while tossing frequently, until there are light brown spots on some of the florets. Remove with a slotted spoon and set aside.
Heat the rest of the oil (the other half of the 1/4 cup) in the same pan. Saute the potatoes the same way you did the cauliflower. Remove and set aside. Add the ginger, peppers and the tomatoes and fry for about 2 or 3 minutes everything gets soft on the existing oil in pan. Add the remaining spices and fry some more for about a minute or two; you will see the oil separate on the sides and entire mix will slightly bubble.
Add the pre-sauteed potatoes to the pan and toss well along with all the cooked ingredient mix to combine well. Cover and cook at low to medium till the potatoes are about half cooked. Add 3/4 cup warm water to the pan and cover; cook at low to medium heat till the potatoes are fork tender, about 10 minutes. Add the cauliflower and cover the pan and cook for 10-15 minutes. This prevents from the cauliflower getting mushy.
Once they are fork tender, uncover, increase the heat and cook at high heat till there are almost no liquid left in pan. This is kind of dry dish and whatever spice mix remain will just coat the potatoes and florets; there should no liquid sauce left in the pan.
Stay tuned for part two and three of Noelle's international cooking series spotlighting Mexican and Thai cuisine.